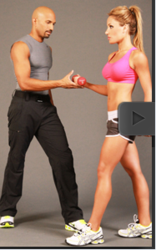 Portland, OR (PRWEB) February 01, 2012
At the beginning of 2012, Portland Oregon personal trainer Kisar Dhillon and Green Microgym Founder, Adam Boesel, wanted to create a simple, but efficient way for people to experience the advantages of personal training. Their first part of their journey was to develop a simple 30 minute fitness program that would give people an excellent workout in less time, and utilize green technology during the process.
When wanting to spend quality time with family, having to work longer hours and having hectic travel schedules, making time for fitness, exercise, health, wellness and personal training seems to be a challenging task for most people. The original personal training model centers around the one-hour personal training session, and a lot of individuals just do not have that much time to make that happen.
The term eco-friendly is about being efficient and conscious with the environment and the ways of living. The one main resource that is not unlimited and will affect all people and species is time of itself. If the program that Kisar Dhillon and Adam Boesel helps individuals create more time for themselves and the people around them, then this personal training fitness program will be a success in Portland, Oregon and beyond.
EcoFicient Fitness is a simple 30-minute personal training program that can work with individuals who want private, semi-private and/or small group training. It will involve creating an exercise environment that will utilize green technology, efficient workouts, and professional training to help create excellent health and fitness results.
The personal training industry is constantly changing, but this is something that no one has done, combining green technology, personal training and fitness all within a 30 minute program. 2012 is going to be a fun and exciting year for both Portland personal trainer Kisar Dhillon and Green Microgym founder, Adam Boesel.
Ecoficient Fitness is the first program being launched, but there are other projects planned in the near future. This year seems very bright and exciting for fitness and combining green technology with professional fitness training and science is going to be a something the fitness industry needs.
###