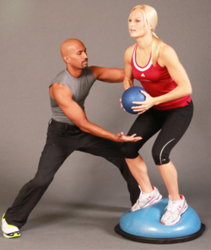 Portland, OR (PRWEB) December 27, 2012
When it comes to fitness, it is all about switching up routines in order to keep generating better results. Since the gyms are going to be getting pretty busy in the next two months, it is always nice to keep on moving in the gym, especially when all of the machine type of equipment is being used. This is one reason why the dropout rate at these big box franchise gyms is so high; no one can access equipment when they want it. That is why this Portland personal training studio, The Art of Personal Training, wanted to share their list so individuals can have options.
Well, here is a list of must have items that you can find in the gym to keep the routine from getting stagnant. In addition, these can also be used in the home in case a person gets tired of the gym.
TOP 10 LIST OF FITNESS MUST HAVES FOR 2013
1. BOSU Balancer – Excellent for working the stabilizer muscles and balance training
2. RESISTANCE TUBING – Different Levels Of Difficulty
3. BATTLING ROPE – Excellent for Cardio & Muscular Endurance Training
4. JUMP ROPE – A simple piece of equipment that is an amazing fitness exercise
5. TRX – Suspension training that uses a person's body weight for resistance
6. Stability Ball – Replaces the weight bench and helps with stabilization and balance
7. Medicine Ball – Great for interval training and body core workouts
8. Mini – Hurdles – These are miniature sized hurdles that are great for speed, but also to replicate sport type movements.
9. Agility Ladder – Excellent for working on foot work, especially for basic movements that a person would use in tennis, football, basketball and ultimate freebie.
10. Personal Trainer– Having a fitness professional in your corner is always a great way to have accountability, motivation and taking the guesswork out of getting results.
Whether a person is going to the gym or working out in their home, just having these simple pieces of fitness equipment will be a game changer versus just doing the same routine at the fitness gym. Good luck in 2013 and stay fit!