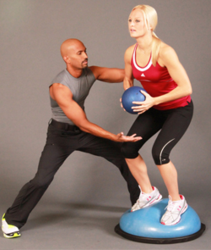 Highest Rated Personal Trainer in Portland, Oregon
Portland, Oregon (PRWEB) April 09, 2012
Cardiorespiratory Intensity
When doing aerobic type of exercise, creating the most amount of caloric expenditure in a shorter amount of time is what matters. This is going to happen by increasing the intensity of the workout that is being done on the treadmill, elliptical or stair climber, or implementing some kind of high intensity interval training into the fitness routine. What Kisar Dhillon creates for individuals who want to generate this specific goal is that the intensity of the workouts has to be at a rate where the client is utilizing both the aerobic and anaerobic systems. In turn, this will allow the body to utilize both carbohydrates and fats for energy sources.
Resistance Training Intensity
Weight lifting is something that all individuals need to start implementing into their fitness routines. Maintaining bone density in both males and females is extremely crucial, especially when the golden years begin to approach. Building a solid foundation of great muscle tone and healthy bones is something that will pay off in the future. In addition, weight lifting also has a great metabolic effect that will help the body expend or burn a certain amount of calories when at rest. This is called resting metabolic rate and the faster it is the quicker a person's metabolism. So creating a good amount of lean muscle mass throughout the entire body will help an individual burn more calories at rest, which in turn will help lose those extra percentage points of body fat.
When it comes to doing abdominal crunches, it is best to do a variety of different exercise that target the same muscles, but from different angles, positions and with a variety of external resistance. If assistance is needed in creating a variety of routines, it is recommended to consult a Portland personal trainer or local fitness professional for a routine that will be tailored to the fitness level of the individual.
Food Intake or Diet
Food intake is something that is very emotional for most individuals. The idea of totally changing a person's food can be very scary because will the food be enjoyable? Eating healthy does not mean starving or eating foods that look like cardboard. The initial goal is continue eating the current foods, but shrinking the portions or change the way they are cooked. Eating vegetables are great if they are steamed, baked or boiled, but when they are fried, they become the enemy. Foods can be healthy, tasty and can create results that will help a personal achieve that defined mid-section. The rule of thumb is stay away from simple carbohydrates (fruit juices, candy, and dense sugary deserts), white flour and saturated fatty foods. To get an exact food plan, it is recommended to go to a registered dietician to get an exact printout of how much and of what type of foods would be beneficial. The foods that were mentioned above can all be substituted by healthier options such as fresh fruit and vegetables, low fat and reduced sugar deserts, wheat or whole grain breads and wheat pastas, and non-saturated fat types of foods.
Combine Them For Success
If a personal can combine all three of these components into a health and fitness program, the results they will generate will be amazing. Achieving that awesome mid-section will no longer be a dream, but a reality. The most challenging part will be starting the program, being accountable and staying consistent with the training program. The best way to guarantee success is to hire a Portland personal trainer, go to a registered dietician and create an excellent support network of family and friends.