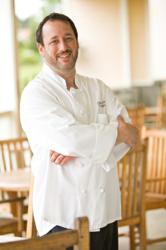 Port Ludlow, WA (PRWEB) April 03, 2013
The Fireside Restaurant at the Resort at Port Ludlow is a local favorite and to its many customers it comes as no surprise that Chef Dan Ratigan has been selected to participate in the Star Chefs on Broadway event in Tacoma, WA. Chef Dan is making his second appearance at this event; he last participated two years ago.
Attendees won't have to wait long to taste Chef Dan's creation as he is preparing the starter course for the event's meal. The Resort at Port Ludlow has donated the ingredients for Chef Dan's course along with a grand prize auction package. The package includes an overnight stay at the Pintail Beach House for two nights, a seven course tasting menu with wine pairings for four prepared and served in The Pintail House, a round of golf for four, and a 1/2 day of kayaking on Ludlow Bay for four.
Star Chefs on Broadway is an annual event attended by 350 people and serves to raise funds for groundbreaking arts education programs. This year the Star Chefs will transport the guests "Over the Rainbow" as they prepare food in front of the live audience; entertainment and a live auction are also part of this amazing event. This year the event will be held on April 14th, at 4:00 p.m. at Tacoma's Pantages Theater. Tickets are still available at: http://www.broadwaycenter.org/season/showDetails.asp?key=494