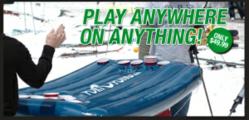 The PORTOPONG really is cool! I know lots of people at university who regularly play beer pong... this I think is something they'd love!
Los Angeles, California (PRWEB) December 19, 2012
PORTOPONG, the world's first inflatable beer pong table, has launched a sweepstakes with Sweepstakes Ninja. The PORTOPONG, designed with the best materials possible in to create an inflatable beer pong table, help to make weekend parties and vacations memorable. Consumers may enter this online sweepstakes by clicking here, and win a Christmas gift that is perfect for New Year Eve parties, or any time of the year.
PORTOPONG LLC was created in March 2007 by two childhood friends, Jerry Piscitelli and Sal Laudano, who loved beer and beer pong. They wanted even more fun things to do on while vacation, and so the idea of aquatic beerpong came to them. Since that day, the brand has now grown to become an international phenomena. It has been featured in USA Today, Maxim Magazine, GQ Magazine, Fox Business, Entrepreneur Magazine and more.
Sweepstakes Ninja gives people the chance to learn about unique companies such as PORTOPONG, while at the same time giving them the chance to win prizes. People may enter the sweepstakes through the sweepstakes draws (http://www.sweepstakesninja.com/sweepstakesdraw/draw/inflatable-beer-pong-table-portopong/). They are daily entry draws, that not only give people chances at winning amazing prizes, but also introduces unique companies to them. Through the sweepstakes draws, contestants have a chance of winning a unique and memorable gift from PORTOPONG.
The sweepstakes may be entered through the Sweepstakes Ninja website. To increase their chances of winning, entrants may share sweepstakes links with friends, family, and through social media. This is a win-win situation for both PORTOPONG and the entrant. Entrants increase their chances of winning award winning products, and more people learn about their commemorative military products.
About SweepstakesNinja.com
SweepstakesNinja.com designs fun and interactive sweepstakes. The company matches consumers with companies, in a fun and interactive manner. Entrants have the chance of winning amazing prizes, and have fun participating in the sweepstakes. Companies benefit from exposure to their brands, word of mouth advertising, customer loyalty, and long term increases in profit. For more details, visit http://www.sweepstakesninja.com/