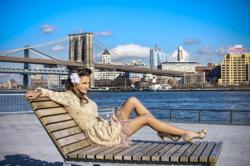 New York, NY (PRWEB) May 31, 2013
Ken Jones, a professional photographer based in Manhattan, recently had the opportunity to grant the wish of 18-year-old, Ashley Tombrello. Tombrello suffers from the life-threatening illness, cystic fibrosis. With Jones and the nonprofit organization, Magic Moments in Birmingham, Alabama, Tombrello was able to see her dream of being a model come true.
Cystic Fibrosis is a genetic, chronic disease that affects the lungs and digestive system. Since there is no cure for the disease, which can vary in severity, can diminish immunity to lung infections and prevents the proper absorption of vitamins and nutrients, treatment is a life-long commitment. According to the Cystic Fibrosis Foundation, 70 percent of patients are diagnosed by age 2, like Tombrello.
Through the efforts of Magic Moments, which grants the wishes of chronically ill children in Alabama, Tombrello was able to travel to New York City with her family to visit with Ken Jones and have a real, modeling photo shoot. Ken Jones gave Tombrello the full treatment, with hair, makeup and clothes and a glamorous photo shoot. The experience was something the teen will be able to remember forever.
Ken Jones was proud and excited to be part of such an important moment in Tombrello's life. Ken Jones Photographs Fashion with Magic Moments
For more information on Ken Jones and his work, please visit this website: http://www.fultonstudio.com.
About the company:
Ken Jones is a professional photographer based in downtown Manhattan, New York City, and known for his creative versatility, a fact evidenced by the diversity of his portfolio. For the last 25 years, his work has grown extensively, covering subjects such as fashion and beauty photography, editorial photography, and commercial and advertising photography. His dedication to superior customer satisfaction and the continual production of original, high quality images has earned him the trust and respect of his esteemed clientele. Visit his website to see his work on corporate head shots, portrait photography and campaigns as well as the location of his photography studio.