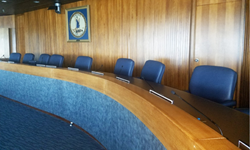 "Live broadcasts provide a convenient method for taxpayers and families to stay informed about school business," said Cherise Newsome, Communications Director for Portsmouth Public Schools,. "With Swagit, we are able to reach more residents and strengthen community relations."
DALLAS (PRWEB) December 11, 2018
Portsmouth Public Schools has partnered with Swagit Productions to provide a live stream of their board meetings, making it easier for the community to stay informed about school business as it happens.
Previously, Portsmouth Schools posted their board meetings on YouTube. While these meeting videos were accessible, YouTube had limitations – the channel was not dedicated to the School Board, included third party advertising, and required additional staff involvement.
Starting December 13, 2018 the School Board will use Swagit's services to stream its meetings Live on the Portsmouth Public Schools website, where meeting videos will also be archived for on-demand viewing. This upgraded video stream features a seamless integration with the Board's agenda system: archived video will be indexed with the School Board meeting agenda, making it simple for viewers to select an agenda item and jump to that point within the meeting video.
"Live broadcasts provide a convenient method for taxpayers and families to stay informed about school business," said Cherise Newsome, Communications Director for Portsmouth Public Schools, who served as the project leader. "With Swagit, we are able to reach more residents and strengthen community relations."
"Swagit's EASE™ hands-free video streaming® and indexing services are helping to improve Portsmouth Public Schools' efficiency and public engagement efforts," said Natascha Ross, Account Manager. "By integrating EASE™ with Diligent's solution, the School Board now has an easy-to-use and informative solution for both the Board and the Portsmouth community."
The Portsmouth Public School Board's live meetings can be watched online as they happen at http://ppsk12.us/schoolboardlive. In addition, on-demand videos of previous board meetings are available, allowing Portsmouth residents to watch at their convenience. Recorded meetings are also rebroadcast at scheduled times on Portsmouth educational TV station Channel 47 (Cox) and Channel 40 (Verizon).
About Swagit Productions, LLC
Swagit Productions, LLC, based in Dallas, TX, provides hands-free video streaming®, captioning and broadcast solutions to local, state and federal government agencies. Swagit pioneered the Avior™ HD Broadcast System – a complete package of HD PTZ (Pan, Tilt and Zoom) cameras and professional video-switching equipment that enables any client to fully outsource the production, operation and distribution of multi-camera broadcasts for public meetings. Swagit's progressive online, mobile and social platform solutions include the Extensible Automated Streaming Engine (EASE™): a hands-free webcasting® system for public meeting indexing, agenda integration, archiving, on-demand playback, closed captioning, and the innovative Sound Search™. Swagit's focus is on emerging technology and relevant avenues of distribution – for example, Swagit's ISD – Community PEG (Public, Education and Government Access) portal and app featuring HD viewing, social media integration, and on-trend resident engagement.