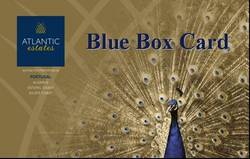 In addition to serving our owners, conversely, the program benefits our partners, and the Algarve economy
(PRWEB) July 3, 2009
Portuguese boutique real estate agent Atlantic Estates is implementing a customer appreciation program like no other. Dubbed the Blue Box Card program after the company's box-shaped logo, membership is reserved exclusively for those who have bought homes through the agent. The program offers promotions and discounts at prestigious establishments across the Algarve.
"We want to give our owners the very best Algarvian experience they can imagine," says Atlantic Estates Managing Director Artur Simes. "This program thanks our customers for their trust in us, as well as enhances their lifestyle."
The Blue Box Card is the latest facet of Atlantic Estates "Fresh Approach" strategy implemented in September 2008. The strategy was designed to set Atlantic Estates apart from its competitors by offering clients non-traditional services, such as massage therapy after a day of visiting properties, and complimentary interior design and feng shui consultations. "This new program is like punctuating our personalized service with an exclamation point at the end," adds Simes. "It shows our clients, that we continue to care about their purchase."
Partners selected for the program include some of the most popular and unique businesses in the Algarve. "We want our program to have a sense of exclusivity," says Greg Boegner, Marketing Executive for Atlantic Estates, and manager of the Blue Box Card program. "We hand-selected key partners that best represent our program's image, including prestige hotels, restaurants, golf courses, family activities and specialty services. We also asked our owners to participate in the selection process by recommending their favourite businesses. We will be adding partners and enhancing promotions regularly."
"In addition to serving our owners, conversely, the program benefits our partners, and the Algarve economy," states Simes. "Our partners enjoy inclusion in Blue Box Card promotion which is target targeted to full time residents or frequent visitors to the Algarve.
Blue Box Card members will receive their cards and membership details in early July. A distinctive peacock with golden feathers, used in much of Atlantic Estates publicity, is prominent on the card. Membership information, partner lists and promotion details are featured on the Atlantic Estates website.
Inaugural Partners in the Blue Box Program
A Colina Hotel
A Colina Restaurant
Alto Golf
Angsana Spa by Banyan Tree
Aquashow
Art in the Algarve
Beloura Golf
Bistro des Z'Artes
Buggy Safari
Caniço
Champagne Cruises
Couleur France Restaurant
Elements Spa by Banyan Tree
Emo
Fuzio's
Gramacho Golf
Monte Rei Golf
Pepper's Steakhouse
Pimenta Preta
Puxar Lustro
Quinta do Vale Golf
Sabores do Mundo
Silves Golf
Vale da Pinta Golf
Thai in Vilamoura
Tivoli Carvoeiro
Tivoli Lagos
Tivoli Marina Portimão
Tivoli Marina Vilamoura
Tivoli Victoria
About Atlantic Estates:
Atlantic Estates is celebrating its 6th year providing professional, personalized service to those selling and buying prestige properties along the coasts of Portugal. Headquartered in Vilamoura in the center of the Algarve, Atlantic Estates also covers the Estoril and Silver Coasts. Through arrangements with select international agents, the company's client base extends across Europe including the U.K., Ireland, the Netherlands, Germany, Norway, France Spain and Russia. Their philosophy of innovation, exclusivity, technology and service is a hallmark intended to maintain the company's commitment to its clients while staying a step ahead of the competition.
###