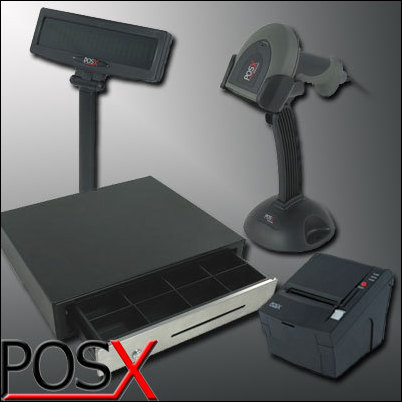 In my opinion, there is no other hardware manufacturer around that can match the quality and price point of POS-X. Our relationship has been a win-win for everyone.
Bellingham, WA (PRWEB) August 3, 2006
POS-X Inc., manufacturer of a complete line of integration-ready point-of-sale components, emerges as a major player in the POS industry as revealed in Vertical Systems Reseller (VSR) Magazine's Top 50 POS Hardware Leaderboard for 2006.
VSR's independent survey, conducted by Litchfield Research, polled the opinions of over 250 valued-added resellers who rated 38 point-of-sale equipment manufacturers on the features, innovation, reliability, support and pricing of POS components in six product categories. Compiled results revealed the top 50 POS hardware products on the market today. POS-X emerged as the only manufacturer ranking among the top 3 in multiple product categories, earning high satisfaction ratings for its receipt printers and cash drawers.
POS-X executive director, Karl Schoessler's reacts, "For an evolving company like ours, the Leaderboard results really illustrate the quality we offer the reseller channel and cements the confidence the channel has in our POS hardware product line. POS-X is creating quite a buzz in the industry and we are proud of that." Schoessler adds, "We pride ourselves on bringing well-designed, innovative products to market with the durability, pricing and warranties that meet or exceed those of other industry leaders. We tell our resellers to expect more from us."
From a reseller's perspective, POS-X delivers. James Berard, owner of JRB Development, a POS-X hardware reseller and independent POS software developer based in San Diego, CA. states, "In my opinion, there is no other hardware manufacturer around that can match the quality and price point of POS-X. Our relationship has been a win-win for everyone." JRB Development bundles POS-X cash drawers, receipt printers, and barcode scanners with their own Perennial® POS Software. "We are now able to offer a total one-stop solution for our customers' needs. No more searching online for hardware or dealing with several vendors to assemble a POS system; our overall hardware costs have been reduced and we pass along the remarkable savings to our customers," concludes Berard.
POS-X manufactures end-to-end point-of-sale solutions and POS peripherals for retail and restaurant operations. Taking the point-of-sale industry by storm, POS-X Complete POS Systems feature guaranteed compatibility, superior performance and ease of use with unparalleled warranties. The POS-X supplemental line of POS hardware includes a wide selection of barcode scanners, receipt printers, pole displays, cash drawers, and card readers designed for universal compatibility. The talented POS-X team of designers, manufacturers, support and sales staff works to deliver the best service and hardware solutions through its growing U.S. and Canadian reseller channels. For more information, visit http://www.pos-x.com.
JRB Development specializes in delivering and supporting point-of-sale software solutions to customers nationwide. JRB Development's team members have been providing quality business solutions since 1998. JRB Development's mission is to provide exceptional software and hardware solutions to businesses that demand superior quality that is cost effective. To learn more, visit http://www.jrbdev.com.
Publishing 12 times per year, VSR Magazine circulates cutting edge technology news to over 30,000 leading resellers across private and public retail, hospitality, healthcare, manufacturing, and distribution industries. VSR's Top 50 POS Hardware Leaderboard is the first comprehensive resource of its kind in the POS industry. For details, visit http://www.verticalsystemsreseller.com.
###