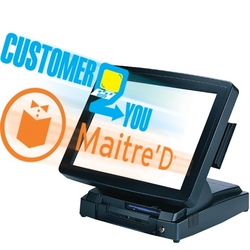 We are constantly adding new features and will soon announce more POS integrations
Tampa, FL (PRWEB) June 9, 2008
As more restaurants implement online ordering to help bolster sales in a sagging economy, Customer2You Software will unveil integration with the Maitre'D POS by Posera at the Maitre'D Reseller Conference in Montreal, Canada, June 16-17, 2008, where Customer2You is a silver sponsor. In addition to the new POS integration, a host of new features will also be unveiled including the ability to accept cash or bypass payment completely, the ability to send text and email blasts directly to customers and the ability to present the menu in multiple languages. "We are constantly adding new features and will soon announce more POS integrations," boasts Glen Wheeler, President. "Several of our Platinum Preferred partners such as Mercury Payment Systems, J2 Retail Systems and Lease Corporation of America are also sponsoring the Maitre'D event," he added. "This gives restaurants the advantage of knowing that the various systems have been certified to work together."
Customer2You prides itself on a myriad of competitive features and its full service staff. Also unique to this rapidly growing company is the marketing support. A free Google AdWords campaign is automatically set up by Customer2You and designed to bring customers to the restaurant's online menu.
All future upgrades and maintenance are included in the setup fee. With no additional costs to the restaurant and no additional hardware needed installation, Customer2You Online Ordering Software is one of the few ways to increase revenue without increasing costs.
Customer2You also offers a "Lite" product for those restaurants using cash registers or POS platforms other than Aldelo or Maitre'D. The "Lite" product includes all features of the original except integration into the POS. Both versions provide an administration portal that allows the restaurant manager to edit menu item descriptions, changing modifier options and review the order history. A mobile version of Customer2You, that will allow customers to place orders from their cell phones, is due to be released after the Maitre'D conference.
"We have already launched several restaurants using the Customer2You Online Ordering Software. It has been a great way to add value to our dealer services and generate revenue for our clients!" noted Andrew Strickler of Tampabay POS.
Customer2You expects to have even more POS integrations on exhibit at the Florida Restaurant Show in September. Complete information can also be found at Customer2You.com or by calling 888-476-2461.
###