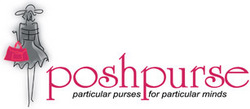 Special attention to detail allows us to bring exquisite designer handbags to our clients while offering a price that is still gentle to their pockets
Cincinnati, OH (PRWEB) October 6, 2009
Donna Melas, President/Founder of PoshPurse envisioned this concept through her love for unique, expertly crafted bags and her frustration over the lack of shops that carried creative designers such as Kale, David and Scotti, and Gustto. She realized the need for an online shop, where clientele could enjoy the same personal experience as a boutique but from the comfort of their home. Donna teamed up with Gwyn Glassner, Vice president of PoshPurse, and using their business backgrounds and competitive spirits, they created an online boutique.
PoshPurse demonstrates the personal experience of a boutique:

Creative, up-coming designer's handbags available
Order packaged exclusively for each client as a gift
Personalized PoshPurse hanger enclosed with each handbag
Hand-written thank you note accompanies each order
Free shipping and free returns
PoshPurse launched with the resolve to offer exceptional, upscale designer handbags to their customers. Melas and Glassner travel regularly to meet with designers, observe the creativity, quality, and craftsmanship involved in designing each bag, and then select which particular handbags to showcase on PoshPurse.
"Special attention to detail allows us to bring exquisite designer handbags to our clients while offering a price that is still gentle to their pockets," says Melas.
"In the present tough economy, women still need to treat themselves by indulging in that special accessory…a new handbag always gives me that special feeling," says Glassner.
PoshPurse.com LLC
8067 Trotterstrail Ct.
Cincinnati, OH 45249
http://www.poshpurse.com
T 866 644 0760
F 513 469 8411
Donna Melas
donna(at)poshpurse(dot)com
Gwyn Glassner
gwyn(at)poshpurse(dot)com
# # #