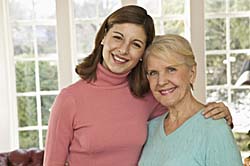 The Avenidas Rose Kleiner Center will be hosting a free "How To" workshop for family caregivers on understanding incontinence on April 25 from 7-8:30 p.m.
Palo Alto, CA (PRWEB) May 03, 2013
The Avenidas Rose Kleiner Center will be hosting a "How To" workshop for family caregivers on understanding incontinence on April 25 from 7-8:30 p.m. The workshop will be led by Dr. Craig Vance Comiter, an associate professor at Stanford University Medical School.
As part of Avenidas, which is a senior services non-profit agency located in Palo Alto, the Avenidas Rose Kleiner Center in Mountain View offers two levels of daytime care for older adults—adult day care and adult day health care. They also often hold workshops for family caregivers to discuss issues facing aging adults and their care.
The "How To" workshop on April 25 will help to answer questions and assist caregivers with understanding urinary incontinence. Dr. Comiter will discuss how it is not an inevitable difficulty and should never be blamed on simply a part of aging. He will teach caregivers how to treat it and discuss the most innovative urology procedures.
The event is open to the public, and parking is available. Light refreshments will be served. The Rose Kleiner Center is located at 270 Esquela Avenue in Mountain View. Please RSVP to (650)289-5499. Free professional care for loved ones is also available so caregivers can attend the workshop; just call 48 hours in advance to make the arrangements.
About the Rose Kleiner Center:
The Rose Kleiner Center provides stimulating activities, socialization, and group exercise for adults in a safe and comfortable, custom-built setting. They also have registered nurses, speech therapists, occupational therapists and physical therapists on-hand for their health programs. These specialists are invaluable as resources for caregivers who want to provide the best care for their loved ones.
About Avenidas:
Avenidas is a non-profit agency that seeks to create successful aging for older adults in a community that supports and celebrates older adults. They provide a wide range of support options, memberships, information, classes and services that enable people to stay active, maintain their independence, help their aging parents, or care for a spouse. They provide the resources for caregivers, and the resources for older adults to support successful aging. Their innovative programs and compassionate staff (paid and volunteer) help enrich the lives of more than 6,500 mature adults and their families each year. A community-based nonprofit organization, Avenidas serves the San Francisco Bay Area mid-Peninsula communities of Palo Alto. For more information, please visit their website at http://www.avenidas.org.