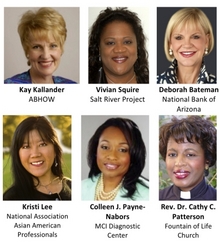 I can truly say that the energy in the room was absolutely inspiring. Great to see such a diverse group of women come together and share how they were making differences in the world through their corporations, businesses, and non-profit organizations
Scottsdale, AZ (PRWEB) April 5, 2011
Positively Powerful-Triad West Inc. is pleased to announce the six recipients of the "Positively Powerful Women Awards" and ceremony to be held May 20th at the Ritz-Carlton, Phoenix 11:30am to 2pm, followed by an open "Conversations On Leadership" for networking and professional development. The Positively Powerful Woman Award is given to servant leaders who have founded or lead legacy organizations.
Kay Kallander, Senior Vice President for Strategic Planning American Baptist Homes of the West (ABHOW), will receive the first 2011 Global Leadership Award for her many contributions and design and launch of The Grove, an acclaimed memory support program for Seniors. Her contributions include her Aging Services of California's leadership development program and launch of Leadership ABHOW. Ms. Kallander was a delegate to the White House Conference on Aging and represented the U.S. in Australia at the first Alzheimer's Association.
Vivian Squire, Supervisor, Human Resources Learning & Development Services for SRP(Salt River Project) will receive the Corporate Woman Award for her management of SRP's Corporate Mentoring Program, her tireless support of community organizations and her commitment to leadership development, diversity and managing change of the third-largest public power utility in the nation.
Author and entrepreneur, Kristi Lee, will receive the award for Nonprofit Leadership for her role in the founding of National Association for Asian American Professionals (NAAAP) Phoenix Chapter, the NAAAP Mentor and Professional Development Programs and co-founding Bridging the Gap Consulting which facilitates educational, trade and development interests between individuals from U.S. and China.
Deborah Bateman, Executive Vice President of Specialty Banking, member Executive Committee and Board of Directors National Bank of Arizona, will receive the first Award for Philanthropic Leadership for her establishment of the Women's Financial Group (WFG) dedicated to providing networking and resources to female business owners; for giving over 500 hours each year to community organizations; and for charitable efforts in the last three years which include raising nearly $5 million for the benefit of organizations in Arizona.
Rev. Dr. Cathy Clardy Patterson, Pastor, Fountain of Life Church will receive the first Positively Powerful Woman Award for Spiritual Leadership for her vision as expressed through the founding of Fountain of Life Church and her global ministry, for serving on the ministerial staff at Tanner Chapel AME Church and for success in the world of business as only the second African American woman in U. S. history to be named a Managing Director of a major investment bank. 
Colleen J. Payne-Nabors will receive the 2011 Positively Powerful Woman Award for Entrepreneurial Leadership for her vision as expressed through the founding of six successful companies including the award winning Mobile Cardiac Imaging, LLC, (dba) MCI Diagnostic Center. For three years, Inc. Magazine has listed her company as one of the 5000 Fastest-Growing Private Companies in America.
The 501c3, beneficiary is Life Paradigms Inc. founded by Positively Powerful Woman Awardee Fatimah Halim President & CEO, which provides developmental services to women and girls. http://blueprintforwomanhood.com/
About the Awards Program: The Positively Powerful Woman Award is given to accomplished women who have founded or lead legacy organizations. On May 20th, 11:30am to 2pm, at the Ritz-Carlton, they will be honored for their global success, resourcefulness and vision. Following the Luncheon there will be networking and "Conversations On Leadership" for professional development. Positively Powerful Guest Speakers include Diana Gregory, Susan Ratliff and Dr. Kay Lovelace-Taylor. The public is invited to attend.
Sponsors: This years event is sponsored by Southwest Gas Corporation, National Bank of Arizona, ABHOW, Black Wall Street and Arizona State University. To learn more about sponsorship go to http://2011positivelypowerfulwomenawards.eventbrite.com/
Dr. Joel P. Martin is the creator, producer and host of the Positively Powerful Events. She is considered "a genuine genius in her approach to personal transformation." Joel is a training designer and has spoken before and/or trained people of all ages across the U.S. and internationally. She is President of Triad West Inc. specializing in diversity, leadership, alignment and breakthrough performance; Commissioner on the Human Relations Commission, City of Scottsdale; board member American Baptist Homes of the West; and member of the Coalition of Blacks Against Breast Cancer (CBBC).
###