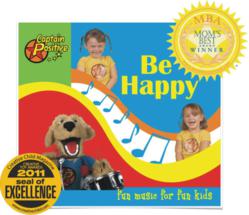 As a mom I love that my kids are singing-reciting positive and self-empowering messages Cristy-Mother of 2
San Diego, CA (PRWEB) December 08, 2011
The Captain Positive Series, part of the Positively Kids line of multi-media entertainment products, teaches children the power of positive thinking; New "Captain Positive: Be Happy" music for kids CD wins Mom's Best Award and Creative Child Excellence Award.
By adulthood, one in twenty Americans will suffer from depression, according to the CDC. In a culture where negative is the norm and self-doubt pervades, how can parents, educators and other influencers intervene when the young, sponge-like brains they're molding are still open to positivity? According to Captain Positive, the super-hero of positive thinking in the new line of Positively Kids entertainment products, the answer is to "Be Happy" - and that's precisely the message behind his new music for kids CD of the same name.
"Captain Positive: Be Happy" CD offers music for kids that empowers plus laughter and kid-friendly affirmations
Utilizing laughter, music and kid-friendly affirmations, Positively Kids seeks to empower children by teaching them to tap their inner strength and embrace life's challenges. The "Captain Positive: Be Happy" CD reinforces these principles with a fun eclectic musical collection that parents will enjoy and kids will love! As kids laugh, smile and sing along, they will learn that like Captain Positive, they can choose to be happy.
By teaching our children about positive thinking, we are providing them with skills they can use to empower themselves throughout their lives. This CD delivers positive messages and teaches kids coping skills through music, fortifying them with the power of positive thinking. Because each song is different from the others, the CD will entertain parents and engage kids from beginning to end.
"Captain Positive: Be Happy" CD Debuts; Receives Awards And Rave Expert Reviews!
Not only has this exciting and fun musical CD made kids cheer; parenting experts, psychologists and moms across the web and beyond have been singing the praises of "Be Happy" and Positively Kids. Creative Child gave "Be Happy" its 2011 Best Of Excellence award. The Mom's Best Award also recognized the CD as one of its best mom-tested, mom-approved media products of the year, because, according to one of the judges, "What is the most unique about this product is that all the songs focus on one topic…being positive and happy. It is great for a child to learn this as it can alter their mood and thus behavior." Another Mom's Best Judge concurred, "I like that this CD creates a positive mood for kids. It was fun and engaging. My kids age 6 to 10 enjoyed singing along."
According to Edie Raether, MC, CSP and author or Stop Bullying Now, "Positively Kids has produced musical magic for kids! What a fun way to teach and transform your child's self-esteem." Licensed Marriage and Family Therapist and founder of Respectrum (Re-Abling the Autism Community) Courtney Olinger agrees, and said about the product, "Positively Kids combines music and message to start early with teaching children how to spot the "sparkling moments" in life."
About Positively Kids:
Founded in 2010 in San Diego by mom Stacey Crumrine, Positively Kids brings parents, caregivers, and educators many tools that they can give to the precious little minds for maximum positive impact. Positively Kids weaves its "Captain Positive" character, the super-hero of positive thinking, through CDs like the just released "Captain Positive: Be Happy", the soon to be released "Be Happy" DVD, plus "Captain Positive: Be Calm", and more, as a means of preparing kids for the years and challenges ahead and arming them with a positive attitude to carry throughout their lives.
With the help of contributors including prominent Neuropsychologists, authors, family coaches, parents, educators and more, Positively Kids has created a culture that permeates all of its entertaining and informative programs and materials. And, although everyone at Positively Kids realizes that the world is not something they can completely control, they do believe that any child, no matter their age, attitude or circumstance, can be taught how to:
Change the world by acting positively
Think with positive self-esteem and confidence
Grow their minds and open up to the opportunities that are presented to them
Be inspired by positive beliefs
Feel healthy inside and out
Have confidence in their decisions
Help others see the benefit of positive thinking
Be motivated off of the good, not the bad
How to have a positive outlook and see the possibilities in life
To learn more about Positively Kids and their new "Captain Positive: Be Happy" CD, visit: http://www.positivelykids.com.
# # #