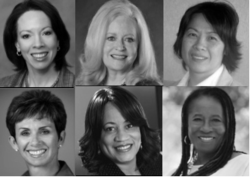 "The women selected for this year's Positively Powerful awards prove that everyone has the opportunity to make their dreams a reality," Dr. Joel Martin
Phoenix, AZ (PRWEB) May 22, 2012
Six women who are living examples of achieving personal and professional dreams will be honored at the Fifth Annual Positively Powerful Woman Awards, June 22, 2012, at the Ritz Carlton in Phoenix. The awards presentation and luncheon takes place 11:30 am to 2 pm, followed by the Conversation on Leadership Summit from 2:30 pm to 6 pm.
"The women selected for this year's Positively Powerful awards prove that everyone has the opportunity to make their dreams a reality," says Dr. Joel Martin, author and renowned international trainer, speaker and coach. "We all have the capacity to be positively powerful and the magnitude of the collective contributions of the Positively Powerful Woman Award recipients is truly empowering." Dr. Martin is the founder and creator of the annual Positively Powerful Woman Awards program.
The Awards program and Summit will include the presentation of Awards, a recipient panel discussion, speakers and activities focused on enhancing personal, professional and business development. The 2012 Positively Powerful Woman Award recipients, along with each of the previous 16 Award recipients, will be highlighted as shining examples of women making a significant impact in their respective areas. Corporate supporters of the event include Southwest Gas Corporation, Arizona State University, National Bank of Arizona and Henkel. Registration is $75 and additional information can be found at http://powerfulwomanawards2012.eventbrite.com/ with sponsorship information at http://sponsorpowerfulwomanawards.eventbrite.com/
The 2012 Positively Powerful Woman Award recipients are:
Global Leadership: Michele Halyard, MD, Mayo Clinic
Corporate Leadership: Pamela Lam, Henkel
Spiritual Leadership: Reverend Sheriolyn Curry Lasley, Mt. Moriah A.M.E. Church
Philanthropic Leadership: Sharon Lechter, Global Volunteer and Benefactor
Entrepreneurial Leadership: Jane Spicer, Daphne's Headcovers
Educational Leadership: Bettie Spruill, Ideal Coaching
Donations gathered at the event will be earmarked for Diana Gregory Outreach Services, a non-profit organization focused on health, nutrition, education and housing related programs. Donations will provide senior citizens with bags filled with fresh produce delivered to their facility/home by Gregory's Fresh Market Place (GFMP).
Background information on 2012 Positively Powerful Awards recipients:
Dr. Michele Halyard, 2012 Positively Powerful Woman Award for Global Leadership.
Dr. Halyard has served as chair of the Department of Radiation Oncology Mayo Clinic from 1996-2001. She is currently the vice chair for Research in the Department of Radiation Oncology of the Mayo Clinic. Dr. Halyard is a member of the Phoenix Chapter of the Links, Inc., serving as Western Area Chair of the Health and Human Services Facet. Dr. Halyard was instrumental in the founding of the Coalition of Blacks Against Breast Cancer (CBBC), the only group within Metro Phoenix that provides information or resources specifically for Black women and men with breast cancer.
Pamela Lam, 2012 Positively Powerful Woman Award for Corporate Leadership.
Pamela Lam is the vice president of Research and Development for Henkel Laundry and Home Care in North American, reporting directly to the president of Henkel. Pamela has numerous patents and a track record in delivering innovations. Her experience includes an overseas assignment in China. Pamela is a founding advisory member of the Asian American Professional Association at Henkel, an active member of the Scottsdale Workforce Development as well as an advocate for young talent development. Pamela also serves as a Corporate Advisory Council member of the Phoenix Chapter of the National Association of Asian America Professionals (NAAAP). Pamela was born in Vietnam and has had the pleasure of living in five cities and four countries so far.
Rev. Sheriolyn Curry Lasley, 2012 Positively Powerful Woman Award for Spiritual Leadership.
Reverend Curry Lasley is the founding pastor of Mt. Moriah A.M.E. Church in Maricopa, AZ. Mt. Moriah was voted into the Desert Mountain Annual Conference in August 2007 and will celebrate five years of serving the community on October 14, 2012. Reverend Curry Lasley is an Itinerant Elder and has earned a Masters of Divinity. She is also the founder of several businesses, which spiritually align with her ministry. They include Comfort Keepers and Covenant Family Services. Previously Reverend Curry Lasley was senior adult minister for Tanner Chapel A.M.E. Church and fulfilled many leadership roles at this historical church.
Sharon Lechter, 2012 Positively Powerful Woman Award for Philanthropic Leadership.
Sharon is the founder of Pay Your Family First, a financial education organization and YOUTHpreneur, which sparks the entrepreneurial spirit in children. Dedicating her life's work to financial literacy, Sharon has authored Think and Grow Rich – Three Feet From Gold in cooperation with the Napoleon Hill Foundation, updated Outwitting the Devil by Napoleon Hill and is known world-wide as the co-author of the international best-selling book Rich Dad Poor Dad and the Rich Dad series of books. Sharon has served on the Dean's Council 100 of the W.P. Carey School of Business at Arizona State University, and currently serves on the national boards of the Women Presidents' Organization and Childhelp and is a national spokesperson for the National CPAs Financial Literacy Commission. Sharon was also appointed to the first President's Advisory Council on Financial Literacy for both President Bush and President Obama in highlighting the need for financial literacy in our nation.
Jane Spicer, 2012 Positively Powerful Woman Award for Entrepreneurial Leadership.
Jane is the Owner and President of Daphne's Headcovers, a family-owned, labor of love that manufactures just about every sort of animal head cover that can be imagined for golf clubs. Jane has offices located in Phoenix and internationally. In growing her business one of her goals was, as her mother always said, "We must do good while we're doing well." In that regard, Jane has created a fund raising head cover for Gabriel's Angels an organization that delivers healing pet therapy to at-risk children. Jane's entrepreneurial ambitions were awakened when she was a pre-teen and wanted a sailboat. Her mother said if she wanted one, she had to think of a business and make her own money. So she started making and selling toys and those morphed into puppets and ultimately to Daphne's Headcovers, the firm named for her mother. Today her products are sold in 75 countries and approximately 200 PGA men and women have Daphne's Headcovers. And, yes, Jane got the sailboat.
Bettie Spruill, 2012 Positively Powerful Woman Award for Educational Leadership.
Bettie Spruill, CMEC, is an international coach, management consultant, entrepreneur, public speaker and writer with 30 years' experience in the field of transformational technology. She is also a certified Master NLP practitioner and co-founder of Vistar Integrated Programs and Ideal Coaching. Bettie has led experiential effectiveness seminars and workshops in leadership, purpose and vision, and high performance for more than 20,000 people internationally and the U.S. as well as multi-national and American companies and educational institutions. In 2000, Bettie adopted the village of Begora, Ghana. Since then, she has raised thousands of dollars to bring the people of Begoro coaching, training, leadership strategies and practices of sustainability. Previously Bettie was senior vice president for Lifespring, Inc., one of the largest training and seminar companies in the world. Bettie is a student of the practices of Buddhism, deep ecology and global harmony, Universal Law, Egyptian and Christian mysticism.
______________________________________
Dr. Joel P. Martin is the Founder and Creator of the Positively Powerful Woman Awards. She is an international trainer, training designer, executive coach, speaker and author of three books. She has worked with individuals in Fortune 500 companies, nonprofit and entrepreneurial organizations across the U.S and internationally.
Dr. Martin opened Triad West Inc. (TWI) (http://www.positivelypowerful.com/Triadwest/) when she and her husband moved to the West Coast. Through TWI, she provides corporations with specialist support in leadership development; diversity, inclusion and cultural competency; and transformational methodologies across three areas of business service:
1) Facilitative Management Consulting: Research, assessments, strategies and tactics development, creating organization cultures.
2) Organization/People Development: Leadership development, change management, training design and delivery, team building, alignment, coaching and event facilitation. Corporate universities curriculum design and contract training.
3) Corporate Communications: Company/enterprise internal and external communications; strategies for branding, reputation and image building; keynotes.
Previously, Dr. Martin was an advertising professional and uses this background to increase awareness of each year's Award recipients' business and community contributions. Dr. Martin has earned a PhD In Communications, Masters in Psychology and was inducted as a Wharton Business School Fellow. She serves as a commissioner on the Human Relations Commission, City of Scottsdale, as a board member of ABHOW (American Baptist Homes of the West) and Director of Education and Training of the annual PowerNetworking Conference.