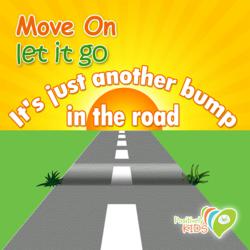 When your kids encounter disappointment, use it as a chance to teach them how to handle it. Don't try to avoid it, teach them how to get through it. Stacey Crumrine
San Diego, Ca (PRWEB) February 05, 2013
It's "Just Another Bump in the Road' is a hopeful and uplifting song that acknowledges life's challenges and inspires kids to work through and keep moving in their lives. This song teaches the value of realizing that difficult situations eventually resolve, and with time we get past these hard times if we keep a positive momentum.
Positively Kids has a fun affirmation delivery system through music, games and videos that teaches kids to use positive words and actions early on in life. By delivering positive messages through music kids are actively singing each melody while learning to use positive words.
Already "It's Just Another Bump in the Road" is getting rave reviews. Doe Zantamata from Happiness In Your Life thehiyl.com stated "It's a really great song, beautiful, and the words, when people listen to them over and over will serve as positive affirmations to be able to accomplish moving on and letting go. Genius and needed!" Luminita Saviuc from PurposeFairy.com loved the song, She raved " It's Just Another Bump in the Road" is such a beautiful and simple song with a powerful message, teaching not only the little ones but also us, the grownups not to identify ourselves with our challenges/ problems, to keep on moving no matter what, to let go and move on. It helps us understand that things come and go and by focusing on what we want, by focusing in the direction we want to go, the many bumps in the roads will matter little to us."
Founder Stacey Crumrine states "When your kids encounter disappointment, use it as a chance to teach them how to handle it. Don't try to avoid it, teach them how to get through it, That is exactly what this song does, it gives the kids a mantra to say to themselves when they are in a tough spot and need to move through it. Kids will be singing "Move on, let it go, it's just another bump in the road." Amy McClain Askin of BelovedAtmosphere.com stated "The tune, sing-a-long quality and lyrics are definitely catchy to both of my kiddos. They've been humming and singing [their version of the lyrics] around the house all day after just 2 listens."
Putting positive words through music is teaching kids a very powerful lesson. An Elton John quote from brainyquote.com stated "Music has healing power. It has the ability to take people out of themselves for a few hours." "It's Just Another Bump in the Road" is expected to give kids a chance to do just that, and the tune is so catchy they will be even singing it whenever they encounter a bad situation.
In 2011, Positively Kids released their award winning music album Captain Positive: Be Happy. In 2012 released "The ABC Song" which teaches children "I am affirmations" through the alphabet. With the help of contributors including prominent Neuropsychologists, Authors, Family Coaches, Parents, Educators and more, Positively Kids has created a culture that permeates all of its entertaining and informative programs and materials.
To learn more about Positively Kids visit their website at http://www.positivelykids.com.
To buy the new Bump in the Road song visit CD Baby http://www.cdbaby.com/cd/positivelykids2
It's Just Another Bump in the Road on You Tube http://www.youtube.com/watch?v=puQMurKqWJ0
# # #