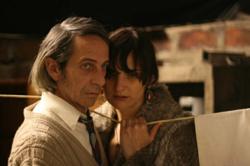 Brings together human comedy and historical tragedy to unique, and surprisingly emotional, effect." – Wally Hammond, Time Out London
New York, NY (PRWEB) March 22, 2012
Kino Lorber is happy to announce the U.S. theatrical premiere of Pablo Larraín's latest film, POST MORTEM (2011), on Wednesday, April 11, at New York's Film Forum.
A companion film to Larraín's critically acclaimed TONY MANERO (2008), POST MORTEM is a macabre, comic drama that begins during the onset of the bloody 1973 Chilean military coup that overthrew democratically elected President Salvador Allende.
Alfredo Castro (who starred as the disco-obsessed, white-suited title character in TONY MANERO) is a dour coroner's assistant who, while obsessively wooing an erotic dancer at the Bim Bam Bum cabaret, is caught up in a historic, cataclysmic event. His ordinarily dull job is now under military command. As anonymous bodies chaotically pile up in the hallway of the morgue, he is given the task of performing an autopsy on a key government figure.
Once again, Lorraín invests his characters with metaphoric undertones, suffusing Santiago with rich period detail and a surreal visual texture that evokes the nightmarish landscape it was rapidly becoming. POST MORTEM premiered at the 2010 Venice Film Festival and was featured at the New York Film Festival.
POST MORTEM will have a 2-week engagement, April 11 – 24, at Film Forum, 209 W. Houston St. (W. of 6th Av.) with screenings daily at 1:00, 3:15, 5:40, 7:50 & 10:00.
Pablo Larraín is available for phone or Skype interviews on a limited basis.
Contact: Rodrigo Brandão, rodrigo(at)kinolorber(dot)com
"The most provocative film at Venice…Takes TONY MANERO's sardonically macabre humor even further." – Jonathan Romney, Sight & Sound
"A spectacular opening offers a taste of the cinematic inventiveness to come. Pablo Larraín's breathtaking visual command makes for enthralling viewing. A rigorous, formally controlled yet emotionally gripping drama." Jay Weissberg, Variety