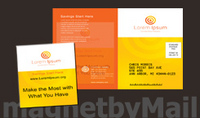 It's our job to get our client's web address into the home or office, and make sure it's seen.
Coventry, RI (PRWEB) March 15, 2011
Corporate Signatures, Inc., has launched a new division -- magnetbyMail -- to print and mail postcard magnets as mailers for business and non-profit clients throughout the US. magnetbyMail will focus on marketers seeking a way to establish or strengthen net-based relationships using a traditional ad media: direct mail.
magnetbyMail customizes full color, large-format, laminated postcards and magnets with a client's graphics, marketing message and web address. magnetbyMail then attaches the magnet to the card and mails the combination to the client's target audience.
Corporate Signatures' president Will Mays, stated, "Our goal is to use the postcard magnets to drive new prospects to our clients' websites. Clients are also looking for low-cost ways to strengthen their relationships with their existing Internet customers, and a long lasting, tangible item like a refrigerator magnet is just right."
"The company would not have been possible ten years ago," said Mays. "Technology has brought together full-color, high speed printing and inline ink-jet database addressing."
"It's our job to get our client's web address into the home or office, and make sure it is seen," stated Mays. "The postcard becomes the carrier and the magnet is the billboard -- they're a very effective combination."
Already magnetbyMail has developed postcard magnets as mailers for a diverse group of clients, including a hospital announcing a grand opening, a non-profit organization promoting organic farming, and an ecommerce company launching a website.
The new division has a website of its own at magnetbyMail.com. Marketers interested in ideas utilizing postcard magnets for direct mail can also visit the division's postcard-magnets blog.
Corporate Signatures is a full-service sales promotion and employee recognition agency offering customized, tangible promotional items to organizations worldwide. For further information, contact Will Mays at 401-385-3060.
# # #