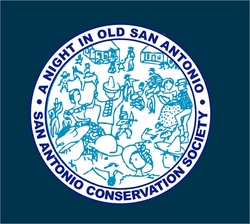 Anyone who loves color-filled scenes, whether it's downtown Mexican markets, flower markets, gardens or street scenes in San Antonio, colonial Mexico or Europe, will be captivated by this NIOSA poster.
San Antonio, TX (Vocus) February 24, 2010
"A Night In Old San Antonio®" (NIOSA®) Chairman Nancy Avellar unveiled the 2010 NIOSA poster at a private reception on February 23 for Society board members, NIOSA volunteers, Fiesta royalty and San Antonio community leaders, and the poster is now on sale to the public.
Titled "Mercado Allegre," the 2010 NIOSA poster by renowned artist Beth Eidelberg features NIOSA's "Mexican Market" area, one of the original sections of NIOSA when it was first held in 1948. The 17½" x 20½" posters are matted and signed and cost $35. They are on sale at the NIOSA office (at 227 S. Presa) weekdays from 9:30 a.m. until 4 p.m.; the NIOSA website at http://www.niosa.org; and at Sigoloff Frame and Art at 8222 Broadway. Note cards and postcards with the NIOSA poster artwork can also be purchased at NIOSA souvenir booths.
The 2010 NIOSA medal by well-known local artist Kathleen Trenchard is also on sale. The medal features the colorful, hand-cut tissue-paper papel picado banners of NIOSA. Produced in limited quantities and always a hot seller, the cloisonné pins are available for $10 at the NIOSA office, on the NIOSA website and at The Fiesta Store on Broadway.
"I chose Beth Eidelberg because she is an accomplished artist—well-known and honored in San Antonio and throughout the Southwest," Avellar said at the unveiling. "She is known for her exuberant watercolors and oils of Mexican markets, filled with flowers and sunlight, and for her charming renditions of houses and architectural features. She is the perfect choice to depict the historic setting, the festive ambience and the riot of colors that is A Night In Old San Antonio."
"Anyone who loves color-filled scenes, whether it's downtown Mexican markets, flower markets, gardens or street scenes in San Antonio, colonial Mexico, or Europe, will be captivated by this NIOSA poster," Avellar adds.
Eidelberg was born in San Antonio, where her devotion to art developed in early childhood. She remembers beginning her artistic pursuits at the age of five, studying as a young girl at the Little House School of Art and Witte Museum. Eidelberg credits this training at San Antonio institutions as a critical, formative experience for her later career coupled with a deep, on-going fascination with color and a joy in sharing her vision. Her further studies at Monticello College (Alton, Illinois), which she attended on a Fine Arts scholarship, San Antonio Art Institute, University of Texas at San Antonio and Albert Glassell School of Fine Arts have been a continuing educational experience. Flower markets around the world are her forte; her work has been published by the New York Graphic Society, Arts Limited and American Artist magazine. She has been named Artist of the Year by the San Antonio Art League, and her work has been represented by galleries throughout the Southwest including Nanette Richardson Fine Art Gallery and is included in numerous private and corporate collections. Eidelberg is a member of the Texas Watercolor Society, San Antonio Art League, San Antonio Watercolor Group and the Coppini Academy of Fine Arts.
A native of New Orleans and graduate of Pratt Institute in Brooklyn, NY with a Master's Degree in Painting and Printmaking, Kathleen Trenchard maintains a studio near downtown San Antonio. She has been researching, collecting and working in traditional Mexican papel picado (punched paper) ever since she was introduced to the technique while visiting Huixcolotla, near the City of Puebla, Mexico, in the early 90s. Her work continues to explore contemporary designs, applications and materials suitable for cut work using hammer and chisel. She has participated in many solo and group exhibits, while teaching design, painting, drawing and art appreciation at San Antonio and Palo Alto Colleges. Her sold out book, "Mexican Papercutting," was published by Lark Books in 1998.
"A Night In Old San Antonio®" (NIOSA®) is a four-night festival in the heart of downtown San Antonio that celebrates the city's diverse cultural legacy for more than 80,000 revelers annually. Through the magic of more than 250 food, drink and atmosphere booths; more than 20 live musical acts; children's games; decorations; costumed volunteers; and souvenirs, NIOSA brings the city's heritage alive in 15 areas (Arneson Theatre, Chinatown, Clown Alley, French Quarter, Froggy Bottom, Frontier Town, Haymarket, International Walkway, Irish Flat, Main Street USA, Mexican Market, Mission Trail, Sauerkraut Bend, South of the Border and Villa España). Sponsored by and benefiting the San Antonio Conservation Society, the 62nd presentation of NIOSA will be held April 20-23, 2010, during the city's 11-day Fiesta San Antonio® celebration.
When: April 20-23, 2010, from 5:30 to 10:30 p.m. Gates close and alcohol sales stop at 10 p.m.; food sales and entertainment continue until 10:30 p.m.
Where: Five-acre grounds of the La Villita National Historic District—the 18th century Spanish neighborhood, bounded by the San Antonio River and Alamo, Nueces and Presa streets.
Who: Founded in 1924, the San Antonio Conservation Society (one of the nation's oldest and most active historic preservation organizations), began with efforts to preserve such unique features as the San Antonio River Bend (now the cornerstone of the famous San Antonio Riverwalk) and the city's four Spanish Colonial Missions. The Society has been responsible for saving most of the historic attractions which make San Antonio one of the top tourist destinations in the south. NIOSA chairman Nancy Avellar, elected by the Conservation Society as its Fourth Vice President, volunteers her time all year to plan and coordinate the event, and is assisted by three NIOSA vice chairmen and treasurer (all of whom are appointed and are also volunteers) in leading the team of 16,000 volunteers that work at the event.
Proceeds: NIOSA is one of the top—if not the top—fundraisers for historic preservation in the nation and truly lives up to its motto as a "Celebration for Preservation."
Funds raised enable the Society to continue its mission of preserving historic buildings, objects, places and customs relating to the history of Texas and all that is admirably distinctive to the state.
Tickets: Gate tickets are $12 for adults and $2 for children six to 12 years; children five years and under are free. Discount tickets are available online at http://www.niosa.org/tickets.htm and at locations around San Antonio; visit the website for specific locations.
Info: Visit http://www.niosa.org or contact (210) 226-5188.
Follow NIOSA on Twitter and on Facebook.
Media: High resolution photos, recipes, B-roll and more detailed information on entertainment, food booths, history, proceeds and volunteers are available from Jeanne Albrecht at 210/496-6686 or jca@satx.rr.com. Complimentary NIOSA media credentials and interviews must be coordinated through Jeanne Albrecht.
NIOSITAS: The Conservation Society also stages NIOSITAs (a mini-NIOSA) throughout the year for conventions, meetings, and festivals—for groups from 300 up to 10,000—to raise additional preservation funds. Just as NIOSA commemorates the ethnic and cultural influences of San Antonio with food and entertainment, NIOSITAs reflect the diverse cultures of San Antonio.
###