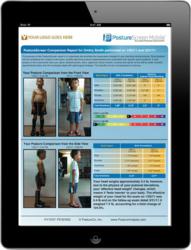 Posture Analysis and Exercise in the palm of your hand!
Trinity, FL (PRWEB) October 19, 2012
By Joseph Ferrantelli, DC, PostureCo, Inc, CEO & David Cruz, DC, WebExercises, Inc., CEO.
PostureCo, Inc.'s PostureScreen Mobile available on iTunes AppStore has announced a strategic partnership with the cloud based exercise prescription and management system by WebExercises, Inc..
Posture Co, Inc., founded by Dr. Joe Ferrrantelli, is a technology company focusing on posture analysis and EMR products for healthcare professionals. Posture Co uses computer images from a variety of formats to digitize specific anatomical locations thereby generating quantitative documentation to support and improve the efficacy and quality of patient care.
WebExercises®, founded by Dr. David Cruz is a one-of-a-kind exercise prescription software program used by health and fitness professionals for prescribing corrective and rehabilitative exercises. WebExercises® was developed over seven years ago with the initiative to improve the quality of people's lives through exercise. This has allowed WebExercises® to quickly become the industry standard for increasing clinical efficiency while improving the patient experience.
Together, this partnership has raised the bar of clinical efficiency and efficacy allowing the doctor to accurately evaluate a patient's posture and prescribe rehabilitative and corrective exercises in minutes. This strategic alliance also includes Dr. Deed Harrison's CBP Mirror Image Exercises.
In addition to being a significant time saver for doctors, it will also provide a better patient experience. This is achieved by delivering patient specific exercise programs via email allowing them to print and view video demonstration using a highly encrypted HIPAA compliant delivery system. Patients will no longer have a vague memory of an exercise. They will no longer have to rely on memory for what they're supposed to do and how many times they're supposed to do it. They will no longer say, "Was I supposed to rotate my head this way? Was I supposed to turn my shoulders that way?"
As health care providers or fitness professionals, the "standard of care" dictates we integrate active care into practice providing patients/clients with exercises that are best suited for their rehabilitative and corrective needs. PostureScreen Mobile enables you to become a posture and corrective exercise expert by giving you the ability to quickly and easily assess and create concise personalized exercise programs. All exercises employ low-tech equipment designed to be performed in the clinic or at home. Regardless if you're a skilled CBP practitioner or utilize another technique, you will find that PostureScreen Mobile will be a great addition to your clinic.
This is not a 'one size fits all' rehabilitative program that many practitioners buy into but a simple yet effective program that can be individually tailored for each patient allowing them to attain their health and wellness goals. Nothing on the market has ever been this simple!
Currently, the PostureScreen Mobile application is rated consistently among the TOP 10 on iTunes in the Health and Fitness category, as well as being picked as a "Top Must Download" by both Details Magazine and GQ Magazine in Australia! To learn more about postural assessments and corresponding postural exercise programs, visit us at http://www.PostureAnalysis.com.