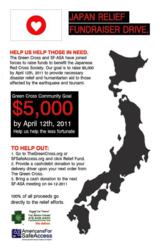 Our goal is to raise $5,000 in the next couple of weeks.
San Francisco, CA (Vocus/PRWEB) March 28, 2011
It has been a little over two weeks since a magnitude 8.9 earthquake rocked Japan and resulted in a devastating tsunami that has impacted most of the coastal cities and placed in jeopardy several nuclear reactors. While most of the world remains focused on preventing a potential meltdown, San Francisco medical marijuana organizations the Green Cross and the San Francisco Chapter of Americans for Safe Access (SF-ASA), have launched a fundraiser drive to benefit the Japanese Red Cross Society.
"We live in a coastal city vulnerable to earthquakes and tsunamis, and the images and stories coming from Japan serve as stark reminder about what is possible," said Kevin Reed, president of The Green Cross. "We feel compelled to help with the relief efforts."
Both organizations have dedicated links on their website homepages to provide more information about how individuals can contribute. To make it easy to give, The Green Cross is offering registered patients and caregivers the opportunity to add a credit/debit donation to each delivery transaction they make in the city. And SF-ASA will be collecting donations at their next meeting on April 12, 2011.
"Our goal is to raise $5,000 in the next couple of weeks," said David Goldman, spokesperson with the San Francisco Chapter of Americans for Safe Access. "We realize it's not a whole lot, but we figure every little bit helps!"
For more information about the Japan Relief Fundraiser Drive or any of The Green Cross' products or services, call them at (415) 992-5744 or visit them on the web at http://www.TheGreenCross.org.
About The Green Cross
The Green Cross, a San Francisco medical cannabis dispensing collective, opened its doors in 2004 as a storefront location in Noe Valley and instantly was known for its professional, patient-centric operation style. In 2006, TGC was awarded a license by the City and County of San Francisco to operate exclusively as a delivery service. The Green Cross offers dozens of strain varieties, medicated edibles and smoking alternatives directly and discreetly to patients' homes with the same friendly service and low prices their members have come to expect.
About Americans for Safe Access in San Francisco
The San Francisco chapter of Americans for Safe Access (SF-ASA) is the most active and prominent chapter of the organization in the United States. They work with local patients as well as San Francisco marijuana dispensaries to ensure safe access to medical cannabis in the city. Their advocacy has led to San Francisco being the friendliest city for cannabis in the entire nation.
SF-ASA has worked hard to help implement the largest array of city regulations regarding medical marijuana in the world. To maintain close contact with the local community, they hold meetings on the second and fourth Tuesday of every month at 847 Howard Street between 4th and 5th. All are welcome and encouraged to attend.
###