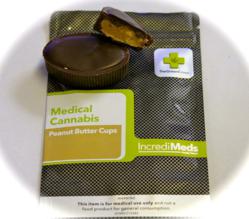 The Peanut Butter Cup has always been a popular product among our membership, but this is the first time we've entered it into a competition!
San Francisco, CA (PRWEB) December 01, 2011
The Peanut Butter Cup, a medicated edible produced by IncrediMeds, the in-house brand of The Green Cross, recently won "Best Edible" at the 5th Annual San Francisco Cannabis Competition. Known as "The Patients' Choice," the annual event helps to raise proceeds to benefit the activities of the San Francisco Chapter of Americans for Safe Access (SF-ASA). Winners were announced on November 12, 2011 at a private awards ceremony for judges, entrants and event sponsors.
"The Peanut Butter Cup has always been a popular product among our membership, but this is the first time we've entered it into a competition!" exclaimed Kevin Reed, founder of The Green Cross, the San Francisco medical cannabis dispensary.
The goal of the annual event is to provide qualified Bay Area medical cannabis patients with a sampling of the strain varieties they are likely to find available at local medical cannabis dispensaries following the harvest season, while simultaneously providing cultivators, collectives and cooperatives an opportunity to showcase their best strain to judges with highly refined tastes. The competition also creates an incentive for cultivators to improve quality and helps San Francisco patients become more informed consumers.
Medical cannabis edibles provide a safe and reliable alternative for patients who prefer or are otherwise restricted from smoking medical cannabis. During the holidays, when patients may not feel as comfortable smoking cannabis, medicated edibles provide a discreet way to consume medical cannabis without drawing unwanted attention from disapproving friends and relatives.
IncrediMeds is The Green Cross's in-house-made selection of over three-dozen medicated edibles available in sweet, savory, vegan, and gluten-free options. IncrediMeds products, including the award-winning Peanut Butter Cup, are available exclusively at The Green Cross.
"We are proud of all of our IncrediMeds edibles. This recognition is really exciting for The Green Cross and our IncrediMeds product line," said Reed.
The IncrediMeds Peanut Butter Cup, and all other edibles, are priced at $7 + tax, or get 3 for $20 + tax. The ingredients are simply semisweet chocolate, crunchy peanut butter, chocolate glaze, butter, cane sugar and THC (cannabis). Allergen information: This product contains peanuts, dairy and soy.
For more information about the Peanut Butter Cup, IncrediMeds, or any of The Green Cross's products or services, call them at (415) 992-5744 or visit them on the web at http://www.TheGreenCross.org.
About The Green Cross
The Green Cross, a San Francisco medical cannabis dispensing collective, organized in 2004 and has become known for our safe and discreet delivery service, commitment to social and environmental responsibility, absolute compliance with state and local law, and our professional, patient-centric operation style. Not a typical San Francisco dispensary, The Green Cross is licensed by the City and County of San Francisco to operate exclusively as a delivery service. The Green Cross offers dozens of strain varieties, medicated edibles and smoking alternatives directly to patients with the friendly service and low prices their members have come to expect.
###