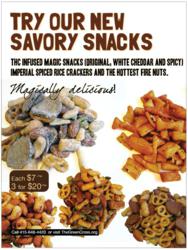 The Green Cross still pushes the bar for customer service and quality medicine.
San Francisco, CA (Vocus/PRWEB) February 12, 2011
The Green Cross, a San Francisco pot club and supplier of high-quality medical cannabis, has launched a new line of Savory Incredible Edibles, a range of cannabis-based snacks that includes nuts, chocolates and crackers. The snacks have been prepared by the medical dispensary in kitchens in San Francisco with the same amount of THC to ensure a consistent and reliable effect.
As a special offer to The Green Cross members, the first 10 deliveries of the day will receive a free Incredible Edible.
"The Green Cross is one of the best - if not the top club - in San Francisco," said The Green Cross customer, Miles Sullivan. "Even without a store front, The Green Cross still pushes the bar for customer service and quality medicine."
The Green Cross, a leader among San Francisco cannabis clubs, also offers a wide selection of gluten-free, nut-free and some vegan-friendly Incredible Edibles, in addition to non-smoking alternative products including tinctures, teas, body balms and sprays
The Green Cross offers patients nearly 50 strain varieties, a few of which have been selected as the 1st and 2nd place winners of the annual San Francisco Cannabis Competition.
The organization, which is San Francisco's first licensed cannabis delivery service, is a nonprofit Public Benefit Corporation, and supplies its products only to individuals with legally recognized medical cannabis ID cards or a verifiable, written recommendation from a physician.
For more information about Incredible Edibles or any of The Green Cross products, call them at (415) 992-5744 or view them on the web at http://www.thegreencross.org/. The Green Cross is a mobile medical marijuana dispensary that operates by delivery only.
About The Green Cross
The Green Cross is one of the leading San Francisco marijuana dispensaries that specialize in high-quality medical cannabis including alternative treatment for patients such as tasty edibles, concentrates, sprays, oils, tinctures, teas and pills.