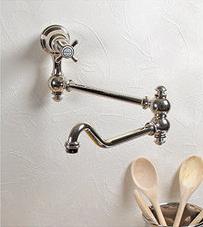 Pot fillers have long, tall, adjustable arms that allow to move the spigot over the biggest, tallest, heaviest stock pot and fill it while it sits right on the burner. That means no heavy pot to carry and no sloshing water.
(PRWEB) August 19, 2012
HomeThangs.com – the Home Improvement Super Store has made their goal to deliver the right product to the consumer, with that in mind, shopping and home design tips, as well as special product selections are being introduced.
A big, huge pot full of water can be very heavy to lift, sometimes it doesn't even quite fit in the sink properly, and is as hard to fill and get out from under the faucet as it is to carry.
Pot fillers, like Blanco Cantata for example, install somewhere on or around your stove, and have long, tall, adjustable arms that allow to move the spigot over the biggest, tallest, heaviest stock pot and fill it while it sits right on the burner. That means no heavy pot to carry, no sloshing water, no half-full container, and no back pain. For someone who makes a lot of soup or pasta this is a little convenience that will make life a lot easier.
HomeThangs has introduced a guide to pot fillers, to help homeowners finish their kitchen with this little luxury, which will save a lot of hassle and unnecessary inconvenience while cooking meals for family and guests.
1. Pot filler installation should be part of a larger remodel, though, because even if it is installed it in a counter, and not directly into the wall, one still has to run a cold water supply line from the main source over to the stove. Depending on the kitchen layout, this could either be pretty easy or extremely complicated. If the sink is on the opposite side of the room from the stove, it might be better to get water from another source (say, a bathroom with a shared wall) if one is available. But usually a deck mount pot filler only requires a few feet of extra piping and a single hole drilled in the counter top to mount it. Example: Deck Mounted Pot Filler by Rohl
2. For a wall-mounted pot filler, on the other hand, the new plumbing must be run not only up to the stove but into the wall behind it. That makes it a great project to pair with the installation of a new tile backsplash, but not ideal if a similar project has just been completed. A wall-mounted pot filler requires more of the ripping end of construction than the deck-mounted versions, but are also conveniently more customizable. While deck mounted pot fillers can only fill a pot shorter than the tallest arm, a wall mount can be set to height of the tallest pot. Example: Grace wall mounted pot filler by Blanco.
3. Deck mounted fillers should be installed pretty close to the stove, so the arm can unfold to be able to reach and fill a pot set on any of the burners. Even if not installing new counter tops, still a professional help is needed to drill the hole.
4. Pot fillers usually have several bending arms designed to be able to reach most areas of the stove, but for those who are looking for something a little less gangly, Rohl A1444x-2 Wall Mounted Pot Filler from the Country Kitchen Collection has a single, kitchen faucet style spigot.
5. If the look is more of an issue rather than the shape,– pot fillers come in everything from ultra modern to old fashioned country kitchen style, like Royale Pot Filler by Herbeau, or BFN18001 Pot Filler by Belle Foret for example, with it's elegant knobs and classic metal cross handle. Many pot fillers come with two handles, so one can turn on the water at the source and then adjust it as needed over the pot, but one handle works just about as well, if with a little more reaching.
As far as snazzy kitchen accessories go, pot filler is one of the most useful, especially for those who love to cook often. If planning at least a minor kitchen remodel anyway, it's a relatively inexpensive, easy-to-install project that will add a touch of class to the stovetop, and a lot of ease to the dinner prep.
HomeThangs.com is not only a home improvement superstore, it also provides expert design tips and a comprehensive shopping guide, taking the ideas from professional interior designers, and offering tips to the consumers on how to pick the products to best suit their needs.