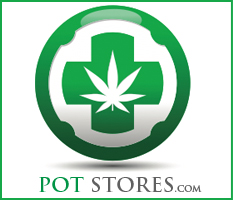 PotStores.com traffic increases by 23% due to State Law changes in Colorado and Washington.
(PRWEB) December 28, 2012
Recent decriminalization of marijuana in Washington and Colorado has generated confusion over how much users are allowed to possess legally and what exactly constitutes illegal use of pot. Due to these new pot laws, the demand for online resources that provide accurate and timely news for consumers and vendors of marijuana has increased dramatically. Vendors especially want to learn how they can take advantage of the Internet to connect with consumers as well as have access to relevant information when they need it.
PotStores.com, the web's premier site for people who want to find the nearest pot store, medical marijuana dispensary or read about the latest developments in marijuana laws throughout the U.S., provides these services as well as useful and fascinating information about the history of marijuana, where to find medical marijuana doctors who can prescribe pot for certain health conditions.
Although federal laws concerning the possession and use of marijuana have not been decriminalized, Washington and Colorado have adopted laws that make the private use of marijuana legal. However, these states have yet to address the matter of where people who do not have a prescription to purchase cannabis for medical reasons can legally purchase pot.
Referencing a recent article in the Seattle Times, PotStores.com provides insight into how the federal government plans to approach the legality of recreational pot in these two states. During an interview, President Obama said that his administration does not consider interfering with Washington and Colorado's state pot laws as a top priority. "We've got bigger fish to fry", President Obama said. "It would not make sense for us to see a top priority as going after recreational users in states that have determined it [recreational pot use] is legal".
Vendors and users who want to remain informed about the latest updates in state and federal marijuana laws can now go to PotStores.com to immediately find out what is legal and what is not. For example, according to the National Organization for the Reform of Marijuana Laws, it is considered legal to possess one ounce of pot or less for private consumption in the state of Washington. However, PotStores.com has further information concerning Initiative 52 obtained from the Washington State Liquor Control Board website where a full copy of I52 is available.
In many parts of the U.S., finding a medical marijuana dispensary or store that carries items necessary to grow pot is difficult, if not impossible. At PotStores.com, interested parties can access locations of dispensaries as well as doctors who specialize in providing prescriptions to people who suffer from diseases that warrant the use of pot for relief of chronic pain. In addition, PotStores.com also provides assistance for entrepreneurs wishing to open a marijuana dispensary in Washington, Colorado or other state in which medical marijuana is legalized.
With two states now making personal use of marijuana legal and several others already enacting laws that consider medical marijuana a viable, alternative treatment for diseases like cancer, multiple sclerosis, HIV/AIDS and severe pain syndromes, more states are expected to introduce initiatives to their residents that will allow for the decriminalization of marijuana. To read up-to-date information regarding how recent changes in pot laws affect possessing and growing marijuana in Washington and Colorado, as well as the other 48 states, visit PotStores.com, the Internet's one-stop portal for news, facts and how-to articles concerning the legalization of marijuana.