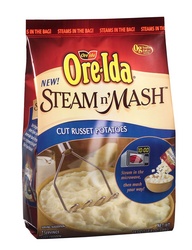 We take great pride in bringing a new aspect of convenience to a nourishing, homemade food families love but often find too time-consuming to make from scratch
PITTSBURGH (PRWEB) September 16, 2008
Available nationally, Ore-Ida Steam n' Mash products take the hassle out of making homemade mashed potatoes. These ready-to-steam, 100 percent real potatoes are already scrubbed, peeled and chopped. Simply steam the bag of frozen potatoes in the microwave for 10 minutes, pour the cooked potatoes into a bowl, add milk and butter, and mash to perfection. In just minutes, moms everywhere can prepare a hot dish their family will love!
"We take great pride in bringing a new aspect of convenience to a nourishing, homemade food families love but often find too time-consuming to make from scratch," said Wendy Joyce, director of marketing for the Ore-Ida brand. "Whether chunky or smooth, or in your family's favorite recipe, Steam n' Mash products offer a convenient way to make your own favorite homemade mashed potatoes in a fraction of the time, so you can spend less time in the kitchen and more time with your family at the dinner table."
To launch the Steam n' Mash line of products, Ore-Ida has partnered with home and food expert Sandra Lee to offer advice and useful tips on how to make homemade foods families love, such as mashed potatoes, in a more convenient way.
"People are always looking for ways to prepare delicious homemade foods faster and smarter, especially busy moms," said Ms. Lee. "Everyone appreciates the time saved by not having to wash, peel and chop potatoes while creating a homemade dish they can call their own. Steam n' Mash potatoes are a perfect example of homemade made easy."
Found in the grocery freezer aisle with Ore-Ida products, Steam n' Mash potatoes are available in four delicious varieties, including Cut Russet, Three-Cheese, Garlic Seasoned and Sweet Potatoes.
To complement the introduction of Steam n' Mash products, the Ore-Ida brand has launched http://www.ilovemashedpotatoes.com, a new Web site for moms who love to mash! The site offers time-saving shortcuts and recipes, interactive polls and shopping tips for moms, and also a special introduction from Sandra Lee. The site also features downloadable Sandra Lee cooking videos showcasing her favorite recipes prepared with Steam n' Mash products.
About Ore-Ida
The Ore-Ida brand is the most trusted and popular name in the frozen potato and onion business. As the nation's leading marketer of frozen potatoes since 1952, people count on the Ore-Ida brand for quality, great-tasting, convenient foods families love. Heinz produces a variety of Ore-Ida® frozen potato and onion products, including: Golden FriesTM, Golden Crinkles® fries, Steak Fries, Tater Tots® potatoes products, Hash Browns, Ultimate Baked, Mashed Potatoes, Onion Rings, and most recent introduction Steam n' Mash™ potatoes.
About Heinz
H. J. Heinz Company, offering "Good Food Every Day," is one of the world's leading marketers and producers of healthy and convenient foods specializing in ketchup, sauces, meals, soups, snacks and infant nutrition. Heinz provides superior quality, taste and nutrition for all eating occasions whether in the home, restaurants, the office or "on-the-go." Heinz is a global family of leading branded products, including Heinz® ketchup, sauces, soups, beans, pasta and infant foods (representing over one third of Heinz's total sales), Ore-Ida® potato products, Weight Watchers® Smart Ones® frozen entrées, Boston Market® meals, T.G.I. Friday's® frozen snacks, and Plasmon® infant nutrition. Heinz is famous for its iconic brands on five continents, showcased by Heinz® ketchup, The World's Favorite Ketchup®. Information on Heinz is available at http://www.heinz.com.
About Sandra Lee and Semi-Homemade
Sandra Lee is an internationally-acclaimed home and style expert with an Emmy-nominated television show, Semi-Homemade Cooking with Sandra Lee, which airs on the Food Network. With 14 books to her credit, she is a New York Times and Amazon.com best-selling author with three new books scheduled for release in fall 2008. Semi-Homemade is a media company that revolutionizes the way people think about creating from scratch. With its trademark 70/30 philosophy, which combines 70% ready-made products with 30% fresh and creative touches, Sandra Lee's Semi-Homemade has become the advocate for the over-extended homemaker. Semi-Homemade allows anyone to take 100% of the credit for something that looks, feels or tastes as if it were made completely from scratch.