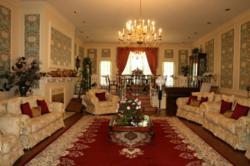 I love looking at the pictures from the holiday party. They remind me of how much fun I had!
Potomac, Maryland (PRWEB) January 10, 2013
Seniors enjoy sharing memories together. Whether the memories are from a family reunion, first grandchild or even their own wedding, seniors love sharing the great times they had with their friends and family. Unfortunately, it is often hard for seniors to recall events because of memory decline and easy forgetfulness. Potomac Seniors Village, an assisted living center in Potomac Maryland, understands this kind of difficulty seniors can encounter. Thus, in order to help seniors recall their favorite memories, the assisted living center has added a new digital frame to the home.
This is no ordinary frame. The Ativa digital picture frame is a great addition to the Potomac Seniors Village family. It is 7 inches with 4 GB of storage space. The frame displays dozens of photos from several of Potomac Seniors Village's events, such as holiday parties and birthday parties. Seniors are also encouraged to present their favorite photos as well. The frame is displayed in the main dining area. Here, residents can watch the pictures change rapidly and share the great memories from the events. A remote control is also included so seniors can start, stop, forward and reverse pictures. Since the digital frame has the capacity to hold so many pictures, the staff will be creating "chapters" of all the different pictures, categorizing them by events, family reunions, activities, vacations; etc.
One of Potomac Seniors Village's missions is to maintain and improve residents' mental health. With the advancement in technology every day, it is important that seniors have the opportunity to be challenged while also enjoy the great features that many gadgets bring. The digital picture frame is one great example of a fascinating machine that seniors can use. In addition, the assisted living facility in Potomac Maryland provides unlimited access to a computer where seniors can access different websites, games and activities. The popular Skype, a video-chatting program, is also available for use so that seniors can communicate with their loved ones. Using these types of machines help seniors improve their mental and motor skills.
Potomac Seniors Village aims to help seniors improve their mental and physical health. The assisted living facility in Potomac Maryland will continue to add new exciting new features to the homes so that seniors are able to learn and be challenged while also enjoying the all of the great advances that technology brings. Potomac Seniors Village welcomes pictures to be sent to be placed in the frame. Just email the picture with a name to info(at)potomacseniorsvillage(dot)com.