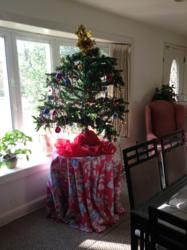 I had a great time with my friends and family. I was also able to donate for a good cause!
Potomac, MD (PRWEB) December 20, 2012
On December 14, 2012, a big tragedy hit the small town of Newtown, Connecticut. The horrific massacre that took the lives of 20 innocent children and 6 brave adults at Sandy Hook Elementary School was an event that shook people all around the United States and the world. The residents of Newtown have been trying their best to console the families of victims and bring back stability and peace to the community. Potomac Seniors Village, an assisted living facility in Potomac, Maryland would also like to reach out a helping hand to all those affected by the shootings.
Potomac Seniors Village had its annual holiday party on December 19, 2012. Like every year, residents and their families joined together to socialize while enjoying delicious food at the assisted living center in Potomac, Maryland. The pianist played holiday music while residents and their families sang along and played games. Residents then sat with their loved ones and opened the gifts that were placed under the holiday tree. These are all the features of the annual holiday party. However, there was one added element to the to the holiday party: a small donation box for those affected by the elementary school shootings.
Potomac Seniors Village proudly raised $200 in donations. These proceeds will go directly to the school and victims' families through The United Way of Western Connecticut. This organization created the Sandy Hook School Support fund which will provide services to those affected. The assisted living facility in Potomac, Maryland encourages all seniors and families to participate to donate. Potomac Seniors Village will be collecting donations through the end of the year. Interested parties are welcome to send a check or money order to the assisted living center or directly to The United Way of Western Connecticut.