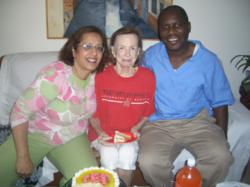 The beautiful interior and exterior designs of the homes allow the residents to enjoy activities both indoors and outdoors.
Potomac, Maryland (PRWEB) May 30, 2013
With the summer months closely approaching, Potomac Seniors Village, an assisted living Bethesda facility, is excited to welcome the new season. Summer is the time for residents to spend time outdoors and enjoy the beautiful weather. With schools on summer break, there is also an influx of families that come to visit which makes the senior care Maryland center a very busy place. Some residents even leave the assisted living center to take vacations with their families and friends. To celebrate the beautiful weather ahead, Potomac Seniors Village is excited to add new and exciting features.
New activities for the summer are always very exciting for residents. They have the opportunity to socialize, improve memory, develop new hobbies and learn new skills. Residents can explore the outdoors by going on nature walks. They can observe the great wildlife that Potomac has to offer, such as deer, groundhogs, birds, rabbits and many more. These nature walks can help spark imagination and creativity. They are also a great way for residents to improve their memory. Another exciting activity being added to the program is that residents can be driven to a local pool, just minutes away from the assisted living center. Residents can go for a swim, do water-aerobics, or even just relax. Spending time at the pool allows residents do low-impact exercise and improve their social skills. The change of environment is a great way to boost mental health too. For residents at the assisted living Bethesda facility who want to spend time indoors away from the heat, they can play new and exciting games on the computer. These games can help residents improve their cognitive functioning and motor skills. Residents who want to simply go for a nice drive day or night can take ride in style in a Mercedes-Benz convertible.
Residents who are big food-lovers can enjoy new menu items as well. Many dishes using everyone's favorite summer fruits and vegetables will be served. Residents can be driven to a local farmer's market or orchard to pick their own fruits and vegetables, such as melons, berries, corn, tomatoes and many more. For those who enjoy cooking, they can work with staff to plan and make their favorite meals. Residents can request special dishes of different cuisines too, such as Mexican, Chinese and Indian. Residents can also make their own drinks like lemonade, iced tea and milkshakes to stay cool during the hot summer days and nights. All residents at the assisted living Bethesda center are encouraged to tell staff their favorite summer dishes and drinks.
Potomac Seniors Village is designed for people who need various levels of assistance with their activities of daily living in a family-style setting. Private and semi-private rooms and suites are available. The senior care Maryland facilities were designed to promote and support a resident's independence. Individualized care plans are developed and maintained in order to meet the residents physical and social activities needs. Services include three regular home-cooked meals as well as a variety of wholesome snacks throughout the day, monitoring of medication, personal care, including toileting, bathing, and dressing, housekeeping and laundry, 24-hour emergency care, wellness services, social and recreational activities.
Potomac Seniors Village is truly a unique assisted living Bethesda facility in many ways. Potomac Seniors Village is an assisted living community located on a 6.7 acre, country estate in Potomac, Maryland - just steps away from the shops and cafes of "Potomac Village" where life is integrated with a residential neighborhood that includes, a variety of places to worship, medical center, convenience stores, restaurants, a public library, parks and recreational facilities. In addition, the homes are unparalleled, offering much larger, beautiful sunlit rooms, private suites and expansive views of the quiet country estate. Two room suites are also available. Also, the senior care Maryland facility provides scheduled transportation to doctor's appointments, places of worship and much more. In addition, Potomac Seniors Village provides residents with opportunities to enjoy a variety of dining choices at home or nearby restaurants, an expanding library including books on tape, wireless internet with Skype, large screen, cable TV and subscription to Netflix. The customized care plans include developing and implementing activities and programs that enable the residents to pursue many hobbies and interests. The monthly fees are kept as possible so the residents and their families will have the peace of mind knowing that Potomac Seniors Village can care for their loved one for as long as they desire.