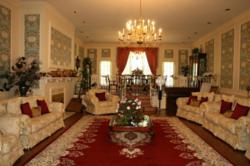 Many assisted living facilities we looked at do not allow pets. So, when I heard Potomac Seniors Village is pet-friendly, I knew this would be the perfect place for Mom and her dog!
Potomac, Md. (PRWEB) February 07, 2013
"Woof woof" and "meow meow" will be the new sounds heard at Potomac Seniors Village. The assisted living center in Potomac Maryland is excited to announce that it has added a new pet therapy program. Residents are able to enjoy playing and communicating with different pets in the comfort of their own rooms.
Potomac Seniors Village is working with a local company that brings pets and their volunteers to provide support to all types of individuals suffering from different disorders and debilitating conditions. The assisted living center is excited to utilize these services for the residents. Pets and their volunteers will visit the assisted living facility in Potomac Maryland each month and allow residents to interact with the animals. Examples of animals that visit are dogs and cats. Each pet is screened and receives a health certificate which deems the animal appropriate for visiting.
Pet therapy is a great way to provide comfort to seniors. Often when residents interact with pets, a different type of connection is made. They feel a sense of security and unconditional love from pets. They may feel that they can connect to an animal in a way that they cannot connect with another individual. Interacting with pets also bring back great memories which residents often share with their friends and families.
Potomac Seniors Village is a pet-friendly assisted living center and encourages residents to bring their pets. Examples of pets that have stayed at the facility are dogs, cats, birds and fish. Each pet is required to have a veterinary report and proof of required vaccinations prior to move-in. Potomac Seniors Village requires that pets weigh under thirty pounds, are fully trained to walk on a leash and obey general voice commands, be spayed or neutered, be controlled from making loud noises, such as barking, that disrupt the harmonious environment of the assisted living center. For more information on pet policies, please contact the assisted living facility in Potomac Maryland.