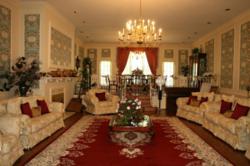 I love spending Valentine's Day with my friends and family here!
Potomac, Maryland (PRWEB) February 14, 2013
Valentine's Day is the day of love, appreciation and fun. It is celebrated differently by everyone across the nation. Some spend it with their significant other while others spend it with friends and family. Some even spend it alone. At Potomac Seniors Village, an assisted living facility in Potomac Maryland, Valentine's Day is a joyous day spent with friends and family.
At Potomac Seniors Village, there is always a lot of activity on Valentine's Day. Many residents receive special gifts like flowers, chocolate, and cards from their loved ones. Loved ones who live close by enjoy visiting the residents and delivering gifts personally. Many residents also leave the assisted living center in Potomac Maryland to have lunch or dinner with their families. Residents enjoy sharing their memories of past Valentine's Days with other residents during mealtime. Each resident also receives a special Valentine's Day treat from the assisted living center.
Potomac Seniors Village wants to spread the love by introducing special rates to everyone who has a valentine in need of care. From now through the end of February, families who sign with Potomac Seniors Village receive half off their first month's rent.
At Potomac Seniors Village, each resident is provided the best services in a home-style environment so they never feel they are away from home. Potomac Seniors Village provides a serene and luxurious living. These homes provide flexibility to individualize each resident to a particular community based on the level of care required for his or her personal needs. The assisted living facility in Potomac Maryland is unique and unlike most institutionalized assisted living environments. It is situated on seven acres of an upscale and vibrant neighborhood. The contiguous homes provide a home-like environment in a resort-style setting.
Health and care is paramount; thus, air purification systems are installed in the homes for residents to breathe clean and fresh air. Additionally, hygiene is not only through traditional methods, but also through an electronic UV-C sanitizing system that eliminates 99.99% of viruses, allergens germs, bacteria, and H1N1 or MRSA on surfaces.
The resident to staff ratio is 2:1, a figure that is uncommon in other communities. Transportation is provided to and from medical appointments, religious services, or when residents are visiting family members. For more information about the assisted living center in Potomac Maryland or to schedule a tour, please call 301-299-1670.
This Valentine's Day, give the true gift of love. Show valentines that they are loved by providing them with the best care at the most affordable price.