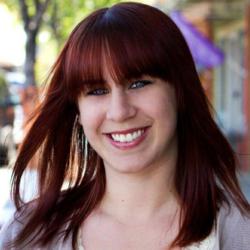 I'm totally pumped, psyched and stoked on hosting my first SEOmoz Mozinar!
San Diego, Ca (PRWEB) January 09, 2013
Thunder SEO, an interactive marketing agency in San Diego, California, announces their Director of Content Marketing, Monique Pouget, has been selected to host an SEOmoz Mozinar, or webinar, January 10, 2013. The topic Pouget will be speaking on is "Building a Community Without a Big A** Budget."
Pouget's presentation will take place at 10:30am PST and registration for the webinar is free. She will be discussing the best tactics for excelling at content marketing and community building without spending exorbitant amounts of time or money. Businesses without huge budgets may be surprised to learn that they can build a content marketing strategy without having to produce all the content inhouse. Pouget will present examples from blogs and clients, which she manages directly, plus other well-known sites, proving that sometimes the "best" content isn't always completely original.
"Mozinars provide our community with further in-depth educational opportunities to dig into an online marketing subject that they're interested in," said Erica McGillivray, SEOmoz Community Attaché. "The live format is always fun and lets people ask their questions to our speakers."
The SEOmoz Mozinars provide a way for people to connect directly with other community members and learn something new at the same time. The Mozinars are held on a specific SEO or other online marketing topic and they usually last from 45 minutes to an hour and a half, including plenty of time for Q&A. SEOmoz community members are granted access to not only the current and upcoming Mozinars, but also previous ones for free.
"I'm totally pumped, psyched and stoked on hosting my first SEOmoz Mozinar!" said Pouget. "I've been a fan of this company since the start of my search marketing career five years ago, and it is a pleasure to be representing both SEOmoz and Thunder SEO this week."
Founded in 2007 in San Diego, CA, Thunder SEO supports clients with innovative and results-driven online marketing solutions integrating social media, content optimization and promotion, link building strategies and implementation, local search and mobile marketing, online promotions and sweepstakes, public relations and online reputation management. Thunder SEO is located at 2920 North Park Way, San Diego, CA 92104. For more information on Thunder SEO, call (619) 618-2396 or visit them online at http://www.thunderseo.com/.