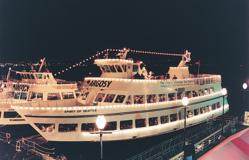 All are invited to attend the events in Historic Downtown Poulsbo.
Poulsbo, WA (PRWEB) December 12, 2012
December 17th at 5:00 pm, join the Historic Downtown Poulsbo Association as they start a holiday tradition for the Poulsbo community.
The evening will kickoff with a gathering around the bonfire at Poulsbo's Waterfront Park for caroling and cookies from, Borrowed Kitchen Bakery, popcorn from That's A Some Italian and cider provided by Liberty Bay Books.
At 6:00 p.m. board the Christmas Ship and prepare for the delightful sounds of the North Kitsap Northern Lights Choir as they perform from the Christmas Ship.
The Christmas Ship will then depart the Waterfront Park as it begins a cruise around Liberty Bay, Keyport, and Lemolo, returning to dock at 9:00 pm.
The Historic Downtown Association will also be collecting donations for Fishline.
All are invited to attend the events at the Waterfront Park and to purchase tickets please call 206-623-1445 or visit http://www.argosycruises.com
Date: Monday December 17th
5:00 Bonfire Starts
5:30 Caroling
6:00 Begin Boarding the Christmas Ship
7:00 Northern Lights Choir performance broadcast from the Christmas Ship | Waterfront Park
7:20 Christmas Ship departs Waterfront Park for Liberty Bay Cruise
9:00 Christmas Ship returns to Waterfront Park