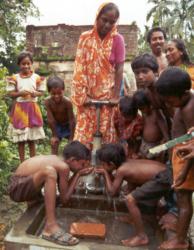 "We are excited to partner with PCI in Bihar, India to catalyze community action to improve health and save lives of mothers, newborns and infants," said Usha Kiran Tarigopula, Deputy Dir.-India Country Programs at the Gates Fdn
San Diego, CA (PRWEB) January 10, 2012
PCI (Project Concern International) announced today it has received a $15 million grant from the Bill & Melinda Gates Foundation for its Project Parivartan (the Hindi word for "transformation"), to improve key family health and sanitation behaviors in the state of Bihar in northern India. The grant is an investment by the Gates Foundation in a region of India and among the most marginalized populations – the neglected castes of the Mahadalits – that until recently have been largely ignored. The PCI project will contribute to reducing maternal and child deaths, and improve nutrition, health and sanitation among the estimated 103 million people of Bihar by 2016.
Parivartan is part of the Ananya program, which is a portfolio of complementary investments valued at over $100 million being made in India's third most populous state by the Gates Foundation in partnership with the Government of Bihar (GOB). Bihar has been known for decades as one of India's most undeveloped states, with low literacy rates, insufficient infrastructure, and the second highest rate of maternal deaths in India. Through Project Parivartan, PCI will implement the "community mobilization" component of Ananya, which aims to complement the other supply side and demand side investments to improve family health outcomes by strengthening community action.
"We are excited to partner with Project Concern International in Bihar, India to catalyze community action to improve health and save lives of mothers, newborns and infants," said Usha Kiran Tarigopula, Deputy Director-India Country Programs at the Gates Foundation.
In Bihar, the Mahadalits and others who are among the most marginalized members of society have the right to publically-funded health care; however, "for various reasons-- including lack of awareness, distance to facilities, and discrimination-- they are deprived of such services," according to Janine Schooley, MPH, Senior VP for Programs at PCI. The goal of the PCI Project Parivartan is to help these vulnerable communities organize themselves to increase uptake of family health and sanitation practices, and use data and community support to hold the government accountable for quality and equity in family health and sanitation services. This will result in improved health of mothers and newborns and improve survival rates. Parivartan will start in 8 districts, and facilitate the scale up of the project interventions and approaches to the entire state.
To accomplish its goals, PCI is leading a powerful consortium of three experienced and capable international and Indian partner organizations, including PATH, based in Seattle, WA, the Foundation of Research in Health Systems (FRHS) and Nidan, both of which are based in India. PCI has also secured the commitment of 16 other NGOs in Bihar to leverage local knowledge and networks for rapid implementation. PCI brings 50 years of extensive relevant expertise in the design, implementation and scaling up of similar programs globally and in India, where PCI has been operating for the past 14 years.
"PCI is thrilled to reach these vulnerable populations," comments George Guimaraes, PCI's CEO. "Receiving this grant will allow PCI to continue to implement large-scale community programs in the world's poorest regions. We are eager to bring our training and resources to the Bihar region to build sustainable, long-term impact."
About PCI:
Celebrating its 50th anniversary in 2011, PCI (Project Concern International) is an international health, development and humanitarian assistance organization, operating in 16 countries worldwide. PCI is dedicated to saving lives and building healthy communities around the globe, benefitting over 5 million people annually in Asia, Africa and the Americas. Funded by federal grants and private support, PCI's headquarters are located in San Diego, CA and the organization also has an office in Washington, DC and a Seattle, WA representative. PCI's current annual budget is $41 million and the organization has over 600 employees worldwide.
# # #