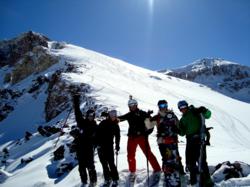 What better way to offer truth and transparency in marketing than to step out of the middle and allow a full dialogue between potential and current clients with no moderation.
Pucon, Chile (PRWEB) April 30, 2012
PowderQuest, operators of guided South America skiing and snowboarding tours in South America for 14 years, announced today a new initiative called the Brand Ambassador program aimed at providing unfiltered feedback from prior clients.
The Brand Ambassador program allows potential clients and those interested in an unfiltered opinion of snowboarding and skiing in Chile and Argentina to reach out directly to past PowderQuest clients with specific questions. This program is designed to provide a deeper level of engagement and transparency to the traditional testimonials found on tour operator websites. Past clients have volunteered to become Brand Ambassadors for PowderQuest because of the impact the ski and snowboard adventures in South America have had on their lives. There is no compensation or incentive offered for participation in the program.
A specific page has been developed on the PowderQuest website to showcase the Brand Ambassadors with a photo and the answers to a series of questions. Potential clients can look through the profiles and decide which Brand Ambassador they identify with the most. From there they just click a link and PowderQuest will put the individual directly in contact with that Brand Ambassador through email or phone.
http://www.powderquest.com/why-powderquest/meet-our-brand-ambassadors.aspx
"What better way to offer truth and transparency in Marketing than to step out of the middle and allow a full dialogue between potential and current clients with no moderation. The PowderQuest product speaks for itself and the entire team has a great deal of pride in what is offered and delivered. The degree of confidence PowderQuest has in the experience delivered to the client is exemplified through this initiative. The Brand Ambassador program is a way to bring our clients experiences to life through their own words. Already we have seen that this honest, open approach to testimonials has helped shape buying decisions for our incoming inquiries."
Luke Shelley, Director of Marketing - PowderQuest
"Our goal is to exceed our clients expectations on every trip we operate. The feedback we have had over the past 14 years from the clients on our guided adventures is that their trip was the experience of a lifetime. When Luke approached me with the concept of the Brand Ambassador program to increase the interaction between potential customers and past clients I was all for it. Past clients were always so thankful for their experiences and constantly asking how they could help. "
David Owen, Owner - PowderQuest
About PowderQuest
PowderQuest Tours Website
Since 1999, PowderQuest has been the world's leading provider of Ski & Snowboard adventures to both Chile & Argentina delivering thousands of life changing experiences. PowderQuest is a US based company with full time offices in both the US & Chile offering a wide variety of trips using certified guides through the Andes to ski and snowboard during the months of July through October.