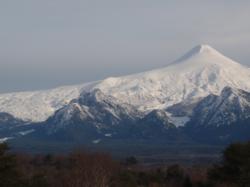 Our last trip of the 2012 season is the Chile Volcanoes Adventure from September 22nd-30th and with the fresh snow across all the locations visited on the tour, the trip is shaping up to be all time!
Pucon, Chile (PRWEB) September 19, 2012
Fresh snowfall across Southern Chile has fallen just in time to finish the 2012 Ski Season on a high note. Over the past weekend smaller ski resorts such as the Corralco Ski Resort, Las Araucarias Resort and Ski Pucon are all reporting a minimum of 10 inches in the base area with significantly more up top. One of the unique characteristics that these three lesser-known resorts share are being located on active volcanoes. Las Araucarias is based on the Volcano Llaima, Coralco on Volcano Lonquimay and Ski Pucon calls the mighty Volcano Villarrica home.
The storms continue with snow currently falling across all three resorts. The international snow prediction website Snow-Forecast.com is forecasting an additional 15 inches at Villarrica-Pucon and 12 inches at Las Araucarias to fall from today through Thursday September 20th. This would bring total snowfall totals from these last two late season storms to close to two feet.
The 2012 Southern Hemisphere season got off to a great early start, but a long dry spell affected conditions in early August across both Chile and Argentina. The new snowfall is being well received by locals and tourists alike and allowing resorts to extend the season.
"Everyone at PowderQuest couldn't be more excited about the new snowfall we have been blessed with. The Southern Hemisphere PowderQuest office is strategically located in the Chilean town of Pucon in the shadow of the mighty Volcano Villarrica and can confirm that it is really coming down here!
Our last trip of the 2012 season is the Chile Volcanoes Adventure from September 22nd-30th and with the fresh snow across all the locations visited on the tour, the trip is shaping up to be all time! Follow along on the PowderQuest Facebook page for current photos and reports."
David Owen - PowderQuest
About PowderQuest
http://www.PowderQuest.com
Since 1999, PowderQuest has been the world's leading provider of Ski & Snowboard adventures to both Chile & Argentina delivering thousands of life changing experiences. PowderQuest is a US based company with fulltime offices in both the US & Chile offering a wide variety of trips using certified guides through the Andes to ski and snowboard during the months of July through October