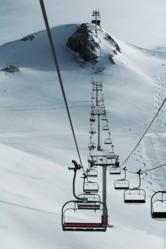 Valle Nevado, located at nearly 10,000 feet high in the Andes Mountains and just 90 minutes from Santiago's airport, is South America's premier ski resort, offering skiers and snowboarders access to the largest skiable domain on the continent
Richmond, VA (PRWEB) May 10, 2012
LAN Airlines and Valle Nevado ski resort have partnered to offer North American skiers and snowboarders outstanding deals for the upcoming 2012 southern hemisphere season, which kicks off June 29. Discounts of up to 30% on all-inclusive week-long stays, discounts on equipment rental and even day lift tickets are all available when flying LAN Airlines to Chile from the US or Canada.
PowderQuest Tours, a traveler's one-stop agency for Valle Nevado vacations and multiple-day ski tours through Chile and Argentina, makes the booking process even easier. Simply call PowderQuest for a Valle Nevado price quote, book a reservation, and then book your flight via Lan.com. Once you've received your e-ticket and receipt, send it along to PowderQuest and they'll take care of the rest, including booking airport transfers and any other pre- or post-tours in Santiago and beyond.
Skiers and snowboarders who fly LAN round trip to Chile for a Valle Nevado vacation will receive these outstanding promotional deals, good throughout the 2012 season:

20% off 7-night packages when lodging in the Hotel Tres Puntas or Hotel Puerta del Sol (not valid for the week of July 27 to August 3).
30% off a 7-night package for the opening season week June 29 to July 6 in the Hotel Tres Puntas or Hotel Puerta del Sol.
15% discount on day lift tickets during high season, and 20% off during low season.
20% off equipment rental.
Valle Nevado, located at nearly 10,000 feet high in the Andes Mountains and just 90 minutes from Santiago's airport, is South America's premier ski resort, offering skiers and snowboarders access to the largest skiable domain on the continent, and world-class heli-skiing.
Guests who book a 7-night stay at the resort receive two interconnect tickets for access to two neighboring resorts, opening up a staggering 7,000 acres of terrain. The 2012 season runs from June 29 to Oct. 2, giving northern hemisphere residents the chance to ski during "summer vacation," and take the kids along. Along with spectacular terrain and 80% sunny days, Valle Nevado also offers boutique shops, six restaurants, a full-service spa and fitness center, cinema, library, bars and lounges, a pub with live music, sports entertainment center and the most modern lift system in South America, including a new gondola for 2012, the first for any ski resort in Chile.
About PowderQuest
PowderQuest http://www.PowderQuest.com
Since 1999, PowderQuest has been the world's leading provider of Ski & Snowboard adventures to both Chile & Argentina delivering thousands of life changing experiences. PowderQuest is a US based company with full time offices in both the US & Chile offering a wide variety of trips using certified guides through the Andes to ski and snowboard during the months of July through October.