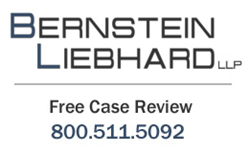 This couple deserves so much credit for bringing attention to the danger associated with power morcellators. Without their campaign, it's doubtful that federal regulators would have done anything to address these risks.
New York, New York (PRWEB) August 11, 2014
As the controversy surrounding the use of power morcellators (http://www.injurybeacon.com/power-morcellator/) continues to grow, Bernstein Liebhard LLP notes that nearly a year has passed since a pair of doctors first launched their campaign to ban uterine morcellation. In an interview that aired on ABC News last week, Dr. Hooman Noorchashm and his wife, Dr. Amy Reed, called the past year a "whirlwind" and discussed their efforts to bring attention to this important public health issue.*
Dr. Reed, the mother of six, was diagnosed with stage 4 uterine cancer after she underwent uterine morcellation to remove fibroids last October. The realization that the cancer was allegedly spread by the power morcellator used in her surgery prompted Dr. Noorchashm to launch a petition on Change.org that seeks to ban such procedures. As of August 11th, more than 51,000 people had signed on in support of his campaign.**
"This couple deserves so much credit for bringing attention to the alleged danger associated with power morcellators. Without their campaign, it's doubtful that federal regulators would have done anything to address these risks," says Bernstein Liebhard LLP, a nationwide law firm representing victims of defective drugs and medical devices. The Firm is seeking to hear from women who allegedly experienced the spread of uterine cancer due to power morcellators.
Power Morcellators and Uterine Cancer
Months after Dr. Noorchashm launched his petition, the U.S. Food & Drug Administration (FDA) issued an alert discouraging doctors from using power morcellators to shred tissue during minimally-invasive gynecological surgeries, due to the risk that the devices can spread undetected cancer cells into a woman's peritoneal cavity. This can result in an upstaging of the cancer, greatly reducing a patient's chances of long-term survival. At the time, the FDA estimated that 1 in 350 women with uterine fibroids actually have undetected uterine sarcoma cells within that tissue.
In July, both Dr. Noorchashm and Dr. Reed told their story to a panel of FDA advisors convened to investigate the matter. When the couple ended their remarks, people assembled in the gallery to observe the meeting responded with a standing ovation.***
Just weeks after the meeting, Johnson & Johnson decided to recall several power morcellators manufactured by its Ethicon, Inc. unit.**** Highmark, Inc., one of the nation's largest Blue Cross/Blue Shield insurance providers, announced it would no longer cover uterine morcellation.*****
As their crusade against power morcellators gained momentum, Dr. Reed continued to fight her cancer.
According to the ABC News report, she has shown no signs of the disease following surgery and six rounds of chemo. Dr. Reed hopes to go back to work at some point in the next few weeks. Both she and her husband also plan to continue their fight, with Dr. Noorchashm telling the network that he intends to focus on changing the way the FDA approves medical devices like power morcellators.
Women whose uterine cancers were allegedly spread via a power morcellator may be entitled to compensation for medical bills, lost wages, pain and suffering, and other injury related damages. To learn more about the risks potentially associated with uterine morcellation, please visit Bernstein Liebhard LLP's website. To obtain a free legal review, please call 800-511-5092.
*abcnews.go.com/Health/couple-fought-ban-medical-procedure-wifes-cancer-back/story?id=24797149&singlePage=true, ABC News, August 7, 2014
**change.org/petitions/women-s-health-alert-deadly-cancers-of-the-uterus-spread-by-gynecologists-stop-morcellating-the-uterus-in-minimally-invasive-and-robot-assisted-hysterectomy, Change.org, August 11, 2014
***democratandchronicle.com/story/all-about-health/2014/07/11/couple-put-real-people-into-fda-hearing/12517557/, Democrat and Chronicle, June 11, 2014
****ethicon.com/sites/default/files/managed-documents/Ethicon%20Morcellation%20Devices%20Customer%20Letter%20Final.pdf, Ethicon, Inc., July 30, 2014
*****in.reuters.com/article/2014/08/02/highmark-procedure-idINL2N0Q80IY20140802, Reuters, August 3, 2014
About Bernstein Liebhard LLP
Bernstein Liebhard LLP is a New York-based law firm exclusively representing injured persons in complex individual and class action lawsuits nationwide since 1993. As a national law firm, Bernstein Liebhard LLP possesses all of the legal and financial resources required to successfully challenge billion dollar pharmaceutical and medical device companies. As a result, our attorneys and legal staff have been able to recover more than $3 billion on behalf of our clients. The Firm has been named by The National Law Journal to the Plaintiffs' Hot List, recognizing the top plaintiffs firms in the country, for the past 12 consecutive years. Bernstein Liebhard LLP is the only firm in the country to be named to this prestigious list every year since it was first published in 2003.
Bernstein Liebhard LLP
10 East 40th Street
New York, New York 10016
800-511-5092
ATTORNEY ADVERTISING. © 2014 Bernstein Liebhard LLP. The law firm responsible for this advertisement is Bernstein Liebhard LLP, 10 East 40th Street, New York, New York 10016, 800-511-5092. Prior results do not guarantee or predict a similar outcome with respect to any future matter.
Contact Information:
Felecia L. Stern, Esq.
Bernstein Liebhard LLP
info(at)consumerinjurylawyers(dot)com
http://www.injurybeacon.com
https://plus.google.com/115936073311125306742?rel=author