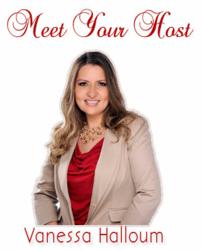 Most of us don't realize that within us we hold a seed of power which is capable to give the physical, mental, emotional and spiritual strength we need.
Coral Springs, Florida (PRWEB) February 19, 2013
The Teleseries begins on February 25, 2013; it includes interviews of 20+ luminary women. These highly successful and powerful women will be teaching and guiding their audience how to create the inner power and outer success that they deserve.
Empowering, enlightening, and educational, "The Power of Being a Woman" is not just another teleconference, instead it will encourage the listeners to plan and take desired action as this powerful new global online Teleseries is the outcome of Vanessa's experience and desire to help women. She has designed it exclusively for those women, who are tired of playing small and are ready to step into their full power, but could use some support in finding the right direction.
It's a must-attend course for women who want to:
-- Identify what is holding them back
-- Discover the true meaning of power and how it impacts them as a woman
-- Overcome life challenges without compromising their integrity and sanity
-- Conquer any limiting belief they might have about being a woman
-- Reaffirm their self-worth and self-esteem
-- Learn how to connect with their inner guidance system
-- Connect with their feminine power and create a life they love
-- Find their real internal power and carve it
-- Feel confident and empowered about their future
-- Achieve self love and success in every walk of life
Vanessa says, "Most of us don't realize that within us we hold a seed of power which is capable to give the physical, mental, emotional and spiritual strength we need."
She further adds, "Yes, it will be an inspiring conversation to inspire, empower and rediscover the strength of a woman. We've gathered the information, tools and support from over 20 passionate and world-renowned women like New York Times Bestselling author Sonia Choquette, 6 time Emmy Award Winner Shawne Duperon, bestselling author and philanthropist Teresa De Grosbois, and many others who will guide you to identify the real YOU, grow, shape and sustain your inner power. It's time to TAKE YOUR POWER BACK"!
Other luminary speakers include: Marilyn Suttle, Monika Laschkolnig, Sheevaun Moran, Farhana Dhalla, Marbeth Dunn, Yvonne Ohumukini Urness, Karen Fitzgerald, Charmaine Hammond, Debra Kasowski, Stephanie Owens, Carmela Ramaglia, Lisa Litwinski, Jennifer Urezzio, Karen Klassen, Lin Morel, Vidette Vanderweide, Jessica Patterson, Laura Rubinstein, Lana McAra, Angela Dacey, Kate Neligan, Christie Mims, Lisa Rose, Karen Rowe, Jennifer Bloome, Michelle Weimer, Nancy Penttila and Aimee Serafini.
To participate, one must register in advance at http://powerofbeingawoman.com/. Free registration to this Teleseries also includes access to all the live calls, replay of all the calls for 7 days, subscription to Vanessa Halloum's inspirational magazine: Conscious Living, and empowerment gifts from every single one of the guests.
In honor of International Women's Day (March 8th) and Women's History month, the telesummit "The Power of Being a Woman" will start on February 25th and will last till March 2013.
For media enquiry, please contact:
NAME: Vanessa Halloum
PHONE NO: 954-543-0434
Email: info(at)vanessahalloum(dot)com
http://powerofbeingawoman.com/
# # # # #