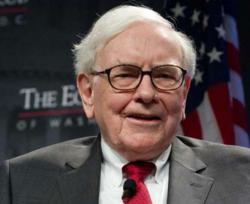 "I am ready for another elephant - if you see any walking by just call me. The cash builds month to month. The gun is always getting reloaded," Warren Buffett.
Minneapolis, MN (PRWEB) February 16, 2013
Berkshire Hathaway Inc and Warren Buffett released their full stock holdings for 2013 on Thursday, not only outperforming almost every other brand; they also announced news of the largest brand purchase within a year - Heinz. For marketers endeavoring to build brands, its a story proving that gaining status as one of the best brands on the market pays off.
"One could say that at the heart of Warren Buffett's brand empire is a meat and potatoes strategy - with ketchup in one hand and a cherry coke in the other. Buffett usually prefers simple businesses, consistent earning power and solid returns on marketing equity while employing little or no debt," says Eric Sims, owner of Integral Media.
Scarce in news statements, Buffett's announcement aimed squarely at gaining the attention of investors and financial markets through solid references to brands. Yesterday's announcement of Berkshire Hathaway and 3G Capital's deal to buy Heinz pointed to the power of marketing.
Though it fits Buffett's portfolio, Berkshire Hathaway wasn't on the search for this particular core brand and core values with brand building cohesiveness. It was the investment firm 3G Capital that initiated the takeover effort and will run operations at the food giant, according to the New York Times. Buffet's vast brand ownership seems to go beyond the convention of many seeking profit by brand building.
Warren Buffett, one of the world's richest men and internationally acclaimed for his business acumen, told CNBC that he has been impressed with Heinz's growth potential and success to date for being based on "investing behind strong brand equities". Coinciding, Alex Behring, managing partner of 3G Capital talked about the "great respect" Heinz's brands command and the intention to expand the "value of the storied brand". Private equity firms aren't generally the voice for such explicit touting of marketing.
"Heinz was an appealing acquisition due to the strength of its brands and its global presence," said Alex Behring, 3G managing partner. Both market giants know the resonance of the brand in developed markets - it has the highest Buzz ranking in its category in the UK, according to YouGov's Brand Index. YouGov Brand Index's Buzz score, which asks respondents if they have heard anything about the brand in the last two weeks, through magazine advertising, news or word of mouth, whether positive or negative, ranked Heinz 5th with a brand score of 47.9.
Buffett and Behring's comments ring well in the ears of marketers. "The power of brand building is not a subject usually so applauded by big business operators. Berkshire knows what the BUFFETT brand is, what it represents, and that marketing is a revenue generator," says Sims.
Buffet said he has known Georgie Powell ever since being on the Gillette board together. "For a dozen years I have admired him as a business man enormously - and as a human being."
Buffett has been quoted for saying, "Honesty is a very expensive gift. Do not expect it from cheap people." Known for his keen regard for honesty and investing rather than spending, it is notable that owning 50% of Heinz at $72.50 per share didn't come cheap. Times Business & Money highlighted that Buffett is considered a value investor—someone who buys well-built brands when they're cheap, "which is a strategy he learned from his Columbia Business School professor, Benjamin Graham, author of the geeky classic The Intelligent Investor."
"The partnership seems to have grown out of a strong relationship of trust, each having the proven experience of owning companies that produce some of the best brands on the market," comments Sims. Berksire is putting between 12 and 13 billion in the deal. Buffet indicated that his companies' excess cash at the end of 2012 was about 27 billion and is potential cash for another brand investment. "I am ready for another elephant - if you see any walking by just call me. The cash builds month to month. The gun is always getting reloaded," said Buffett on CNBC news line.
Additionally, Berkshire acquired 63 newspapers from Media General in June 2012. Doug Hiemstra, president of World Media Enterprises who operates them, wrote on the News & Messenger's website: "Let me be clear: World Media remains bullish on community newspapers and our ability to publish news and advertising content on a variety of platforms that is useful to our readers and the communities in which they live."
Integral Media marketing consultants and integrated media buyers have been helping business build their brands since 1999. Whether working with advertising agencies or directly with brand managers, company owners, or direct marketers, Integral Media helps clients realize the biggest media reach per dollar invested. Call 952-470-5254 for media leaders that consistently win more business.