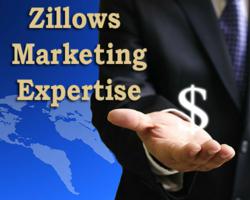 "Partnering with Zillow makes sense for the HGTV brand and our digital real estate property, FrontDoor.com. This is a marriage of strengths." ~ Vikki Neil, Senior Vice President at Scripps Networks Interactive
Minneapolis, Minnesota (PRWEB) February 14, 2013
Zillow Inc. recently announced that HGTV®'s FrontDoor™ is partnering with the Zillow Real Estate Network, which also includes Yahoo! Homes, HotPads™, Zillow.com and Zillow Mobile. Revenue on the quarter was $34.3 million, a 73 percent increase over the same period in 2011 year. Much of the income earned came from Zillow's Marketplace, reporting a staggering $26.8 million — nearly double its Q4 2011 numbers, proving to critics that they know how to multiply the power of marketing.
"Given ROI on that level, their success delivering advertising solutions to real estate professionals is impressive. Their marketing tools to keep lenders' brand and rate quotes in front of borrowers throughout the mortgage shopping process, seem to be effective. Zillow's marketing reach was developed by understanding markets at the local level, and knowing what consumers needed to advertise their businesses." says Eric Sims, owner of Integral Media.
Seeming to have found multiple micromarkets, Zillow says it will focus on increasing the number of people who use it, growing its Premier Agent service, and expanding its rental, mortgage, and new home improvement business venture. Their advertising service and success has come in part from their ability to offer reliable data.
Zillow has continued to successfully expand into new niche markets. Integral Media sees their marketing success as partly gained from the following:
1) Integrated media channels that work together to introduce clients to prospective consumers
2) Leverage media's influence on new prospects as they research their potential purchase
3) Putting dollars and time into obtaining the right marketing messages that help close the deal when consumers buy their product or service.
Zillow Brand Finds Micromarkets To Help Realtors Advertise
Zillow, Inc. operates the largest home-related marketplaces with a complementary portfolio of brands and products that help Realtors advertise. Zillow's brands have a soup to nuts approach, covering a homeowner's journey of owning and living in a home: buying, selling, renting, financing, remodeling and an impressive suite of free real estate tools.
These tools have lent a generous helping hand to local real estate, mortgage, rental and home improvement professionals to better market their businesses. Extending that reach successfully to 46 million monthly unique users, the Zillow, Inc. portfolio includes Zillow.com®, Zillow Mobile, Zillow Mortgage Marketplace, Zillow Rentals, Zillow Digs, Postlets®, Diverse Solutions®, Buyfolio", Mortech" and HotPads".
Zillow Puts A Strong Marketing Budget Behind Their Success
Zillow's huge allocation to their marketing efforts is reaping a harvest of ROI. While the return on advertising investment may not have been as significant within the same quarter as when the marketing dollars were spent, the recent reports certainly indicates it's paying off. According to Inman News on Sept 26th, 2012, "Zillow spent an additional $3.8 million on sales expense last quarter, and only generated $4.8 million in new revenues".
Marketing To Make Those Around You Better At What They Do
Rascoff's first role at Zillow was the Chief Marketing Officer, leading the company in advertising. "Speaking with him it was clear that the growth of Zillow isn't as much about the money as it is about creating a lasting legacy and mark within an industry. What matters is the kind of person you are, how you lead others, and your ability to make those around you better at what they do," said Rick Roque, Managing Editor, TNR for Real Estate Agents & Brokers. His article titled "How Zillow Changed an Industry, with CEO, Spencer Rascoff", published on April 16th of 2012 in The Niche Report, was a mix of both professional and personal comments. The assessment points to a vivid passion for the clients advertising needs and business integrity over pure monetary goals.
"We first innovated on behalf of consumers by creating a transparent marketplace where the borrowers' needs come first, then we connected borrowers with lenders, and now we are investing in tools to help lenders be even more successful serving consumers," said Rascoff.
"Another key to Zillow's remarkable climb may be partly attributed to its ability to leverage and multiply the power of marketing by combining, sifting, and sorting troves of data to develop a highly efficient sales strategy. Given their marketing expertise to handle data for real estate listings, it follows that they know how powerful data is on multiple fronts," comments Sims.
Integral Media has been multiplying the power of marketing for its clients since 1999 as professional marketing consultants and integrated media buyers. Call 952-470-5254 for advertising that guarantees results.