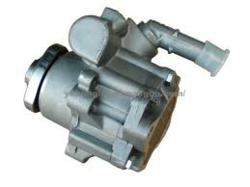 These lowered prices apply to the import and domestic units that are most requested by buyers.
Detroit, Michigan (PRWEB) May 24, 2013
Buying auto parts is one element that most vehicle owners have in common. The need for parts replacement when important components fail is one shared by car, truck and SUV owners. The AutoProsUSA.com company built its parts resource center on the Internet for buyers to use to locate some of the lowest pricing available. This company is now lowering the power steering pump replacement prices for its units in stock. These lowered prices apply to the import and domestic units that are most requested by buyers. These prices and stock part numbers can be found at http://autoprosusa.com/used-power-steering-pumps-for-sale.
The steering assemblies and parts used to create these units have been in constant development by automakers since the 1970s. The safety measures that are now in place have helped to produce easier to use and safer steering for automobiles. The use of power steering pumps has helped revolutionize the automotive industry. These pumps are now used in performance vehicles, commercial and non-commercial vehicles worldwide.
The pumps that are now reduced in sale price online are part of a growing inventory of replacement parts now offered at the Auto Pros company. This company has reached deals with top suppliers to list these parts for buyers online.
Company achievements aside from inventory upgrades have taken place this quarter. The integration of a new toll-free number is one new strategy used by this company to make parts ordering easier. This new number can now be used by buyers in rural parts of the country to obtain information or price quotes by phone.
This new number is in addition to the number available to local buyers in the central U.S. The inclusion of this number and online quote system are two achievements made this year that directly benefits parts buyers. The online quote system provides the same information as a phone call only without the time required to receive one-on-one assistance.
The price drops now announced are made possible by the expanded distribution this company has secured this year. Better shipment options are now available to parts buyers in key states in the country. These new distribution centers are helping local buyers receive parts faster in comparison with waiting for parts to arrive in stock at local retailers.
The states of Ohio, Texas, California and Nevada have been included in the expanded company network. The announcement made at http://www.prweb.com/releases/salvage-yards-resource/junkyards-online/prweb10701781.htm was used to inform the trade industry of new resources for distribution of auto parts. These efforts are expected to continue indefinitely.
About AutoProsUSA.com
The AutoProsUSA.com company constructed its database of parts to include salvage companies, junkyards and other suppliers of parts. This company launched its online database this year in effort to improve its online sales. The company reputation was earned through offline sales and new sales are helping to grow the company business operations on the Internet. The AutoProsUSA.com company secures parts in good condition and with lower than average prices for its buyers. The types of parts warranty protection and faster methods of shipment now available are helping to assure every buyer using this company as a used parts supplier in North America.