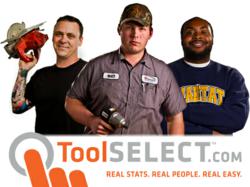 "They know when they come to our YouTube channel, they're getting unbiased reviews from real people who have nothing to gain other than helping out the rest of the community."
Grand Rapids, MI (PRWEB) March 02, 2012
Power tool reviews, unbiased and from professional tradesmen, are the most popular feature on ToolSelect.com, and the rapidly growing following on ToolSelect's YouTube channel is enhancing the experience for users.
ToolSelect's YouTube videos have been viewed more than 230,000 times and are currently being viewed more than 58,000 times each month, while continuing to grow.
"People want to see power tool reviews from other people just like them," says Gerry Barnaby, Director of Excitement with ToolSelect. "They know when they come to our YouTube channel, they're getting unbiased reviews from real people who have nothing to gain other than helping out the rest of the community."
Power tool comparison is an important part of many purchasers' decisions, and ToolSelect.com and ToolSelect's YouTube channel are dedicated to doing that in an unbiased manner.
"When you subscribe to our YouTube channel, you're notified each time we post a new video," says Barnaby. "Plus, any time you come across a tool on our website with a corresponding video, watching it is as simple as clicking on the movie icon right there on the page."
ToolSelect's members discuss and rate tools within the community, which extends from ToolSelect.com to Facebook, Twitter and YouTube. The YouTube channel, specifically, is set up so people looking for truly unbiased reviews can find those reviews quickly and easily, helping them make smarter purchasing decisions.
About ToolSelect
ToolSelect is an unbiased community powered by its members that covers all aspects, types and brands of tools, but does not actually sell any tools. ToolSelect's members include everyone from experienced tradesmen to complete novices. Users trade tips, compare notes, debate their favorite tools and work together to help each other make intelligent purchasing decisions.
Like ToolSelect on Facebook (ToolSelect)
Subscribe to ToolSelect on YouTube (toolselecttv)
Follow ToolSelect on Twitter (toolselectmedia)
###