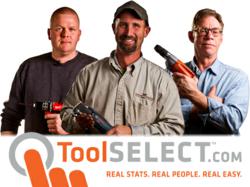 "Following us on Facebook gives our members a backstage pass to how a site like ours works."
Grand Rapids, MI (PRWEB) March 01, 2012
Power tool reviews and discussions are prominent within the ToolSelect.com community, but are far from the only attractions. ToolSelect expanded its Facebook following to approximately 7,777 users within three months through a number of interactive avenues.
Not surprisingly, contests and giveaways are favorites of members, and ToolSelect will be giving away a tool bag every Monday through Friday in March. Starting today, ToolSelect is one of the first companies to adopt Facebook's timeline layout.
"Our office is a fun and exciting place to work," says Tom Klein, vice president of marketing and merchandising with ToolSelect. "Following us on Facebook gives our members a backstage pass to how a site like ours works."
Klein notes live U-Stream video of video shoots in the ToolSelect studio, photos and videos of random experiences around the office, blooper reels, and an open dialogue with members as the main reasons for the rapid growth of Facebook followers.
"The members we have are all tool nuts," continues Klein. "Real power tool reviews from real people help each other with purchasing decisions. Power tool comparison has never been so transparent."
ToolSelect works with all the major tool manufacturers in order to give members accurate specs and relay manufacturer claims, then puts the tools in the hands of real people to determine how the tools perform in real-world circumstances.
About ToolSelect
ToolSelect is an unbiased community powered by its members that covers all aspects, types and brands of tools, but does not actually sell any tools. ToolSelect's members include everyone from experienced tradesmen to complete novices. Users trade tips, compare notes, debate their favorite tools and work together to help each other make intelligent purchasing decisions.
Like ToolSelect on Facebook (ToolSelect)
Subscribe to ToolSelect on YouTube (toolselecttv)
Follow ToolSelect on Twitter (toolselectmedia)
###