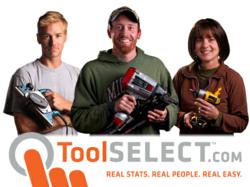 "Support from sponsors like ToolSelect.com help us teach free English as a Second Language classes, transport pregnant women and children for medical care and give emergency food and other support to refugees."
Grand Rapids, MI (PRWEB) February 24, 2012
Power tool review web community ToolSelect.com announced its sponsorship of the Thrive wine-dinner fundraiser aimed at helping local refugees adjust to life in their new country while becoming physically and emotionally self-sufficient.
The wine dinner, hosted by Thrive, will be held on March 31 in the Haworth/Interphase Showroom as well as in the shops at MoDiv. Guest speakers, live entertainment and a silent auction will be among the activities as Thrive raises money toward their cause.
"We depend on private donations in order to continue our mission," says Jessica Gladden, executive director with Thrive. "Support from sponsors like ToolSelect.com help us teach free English as a Second Language classes, transport pregnant women and children for medical care and give emergency food and other support to refugees."
Thrive is a local, grassroots organization dedicated to helping refugees physically, economically and emotionally thrive in their adjustment to Grand Rapids while also keeping parts of their own cultures alive. The program connects refugees to services to which they may not otherwise have access.
"We're excited to play a small role," says Stephen Glaesman, CEO with ToolSelect. "Thrive has done a lot of great things within the community, and we're glad to be a part of this dinner."
For more on Thrive, visit http://www.refugeesupportgr.com. To purchase tickets to the wine dinner, visit refugeesupportgr.givezooks.com/events/wine-dinner-fundraiser.
About ToolSelect
ToolSelect is an unbiased community powered by its members that covers all aspects, types and brands of tools, but does not actually sell any tools. ToolSelect's members include everyone from experienced tradesmen to complete novices. Users trade tips, compare notes, debate their favorite tools and work together to help each other make intelligent purchasing decisions.
Follow Us on FaceBook
Follow Us on Twitter
Follow Us on YouTube
###