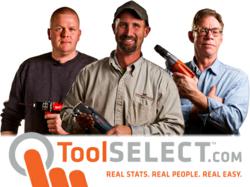 We've had an overwhelming response since we introduced the new RIKON 14" professional bandsaw at the IWF show in July.
Grand Rapids, MI (PRWEB) March 27, 2012
Power tools often make a first impression at trade shows, and the excitement generated last summer by the RIKON 14" professional bandsaw is carrying over to the ToolSelect community as they await the official release of the saw in May.
The new 10-350 bandsaw will give users a choice of two motors depending on a user's needs. The 2.5 HP RIKON factory motor has been used in the RIKON 10-345 18" bandsaw since 2006, and the U.S.-made 3 HP Baldor motor is built for industrial-strength applications.
"We've had an overwhelming response since we introduced the new RIKON 14" professional bandsaw at the IWF show in July," says Jack Bransfield, director of sales with RIKON Power Tools, Inc. "Beginning in May, customers will be able to purchase the saw and take advantage of yet another high quality power tool in our category-dominant bandsaw line."
The bandsaw includes a number of safety features, including a foot break with power-off function, a keyed power-supply lockout switch and a quick-release lever that must be engaged for the saw to turn on.
Rack and pinion blade-guide height and table-angle adjustments combine with a 21-1/16" x 19-1/16" table with dual miter slots to give users versatility with the tool. Dual 4" dust ports are intended to keep things clean while an LED work light is meant to give users a good view of the work. The bandsaw also features a 4-1/2" tall fence and tool-less upper- and lower-blade guide bearing adjustments.
"Bandsaws are popular tools in our community, which is not surprising," says Gerry Barnaby, Director of Excitement with ToolSelect. "People who work with bandsaws demand something they can trust, so our discussions usually get lively. It often comes down to personal preference, and we're excited to see what our community members have to say about the new RIKON 14" professional bandsaw."
About ToolSelect
ToolSelect is an unbiased community powered by its members that covers all aspects, types and brands of tools, but does not actually sell any tools. ToolSelect's members include everyone from experienced tradesmen to complete novices. Users trade tips, compare notes, debate their favorite tools and work together to help each other make intelligent purchasing decisions.
Like ToolSelect on Facebook (ToolSelect).
Subscribe to ToolSelect on YouTube (toolselecttv).
Follow ToolSelect on Twitter (toolselectmedia).