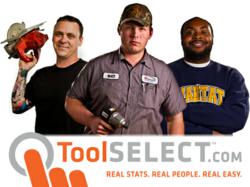 Once again, ToolSelect does a great unbiased review that really means something
Grand Rapids, MI (PRWEB) March 28, 2012
Power tools are essential to Dan Carlson, owner of Carlson Designs, making him an extremely qualified evaluator of tools. As an unbiased tool tester, he frequently lends his knowledge to the ToolSelect community, and he has good things to say in his latest tool review, discussing the Cadex 23-guage headless pin & brad nailer.
Carlson rated the tool five out of five stars in all four categories used by ToolSelect: performance, design, quality and value.
"Once again, ToolSelect does a great unbiased review that really means something," said Jamie Sikorski with Cadex. "The CPB23.50 is the ultimate tool for an almost invisible finish, shooting from 5/8-inch up to two-inch headless pins and slight headed brad nails."
Carlson didn't have much to say about the brad capabilities of this tool, saying he has another tool he uses for brads, but absolutely loved the pins in the Cadex. "I couldn't believe the nails held how they did," said Carlson, noting how inconspicuous each pin was. "I don't even think I'll have to fill the holes. I think the stain and the varnish will take care of it."
In addition to the size and strength of the pins, Carlson notes the gun is obviously of good quality and is balanced extremely well. The blow gun, which allows users to clear dust from the workspace without having to unplug the tool, was another selling point for Carlson, who also made mention of the convenience of the belt hook on the tool.
With the large number of projects and various applications involved in each that Carlson has been and continues to be involved in, he knows the importance of a good tool. The performance, design and quality all met his high standards, and he's also impressed by the price.
"The price is right," said Carlson. "I think you'll buy one of these in your lifetime."
All tool testers with ToolSelect.com are given a tool for a period of time long enough to get an accurate assessment of the pros and cons of the tool, but do not receive any monetary compensation from ToolSelect nor the manufacturer of the tool. As such, every tool review on ToolSelectTV is unbiased and genuine.
About ToolSelect
ToolSelect is an unbiased community powered by its members that covers all aspects, types and brands of tools, but does not actually sell any tools. ToolSelect's members include everyone from experienced tradesmen to complete novices. Users trade tips, compare notes, debate their favorite tools and work together to help each other make intelligent purchasing decisions.
Like ToolSelect on Facebook (ToolSelect)
Subscribe to ToolSelect on YouTube (toolselecttv)
Follow ToolSelect on Twitter (toolselectmedia)