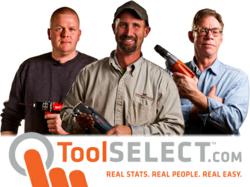 Some students will get technical certificates, some will get two-year degrees, some will get four-year degrees and others will go right into the workforce and be trained by the company for a specific job
Grand Rapids, MI (PRWEB) May 01, 2012
Coopersville High School's Manufacturing Engineering Partnership Program (MEPP) is putting passionate, talented manufacturing and engineering students on the fast track to gainful employment within the industry. ToolSelect puts tools in the hands of real users in search of unbiased reviews. For ToolSelect, forming a partnership was automatic.
MEPP, headed by Warren Warber, is designed for students who know what they want in a career immediately following graduation. Through partnerships with a number of local design, manufacturing and engineering firms, many students graduate Coopersville already having jobs lined up.
"This program sets up students to achieve all types of goals," said Warber. "Some students will get technical certificates, some will get two-year degrees, some will get four-year degrees and others will go right into the workforce and be trained by the company for a specific job."
Through MEPP, students have opportunities to see their work come to life through the partner companies. By the time they graduate, they've already formed a professional network and connections within the industry.
MEPP only accepts partners with tuition reimbursement for employees, so any student who graduates MEPP and lands a job with one of the partner companies will be able to attend college if he or she wishes, with the tuition covered by the company.
The four-year program helps students create a high-school plan, from freshman year through graduation, with goals for classes and extra-curricular activities, all pre-requisites for being accepted into MEPP. Those who adhere to the requirements of the program and have a genuine passion for their chosen industries will be welcomed as MEPP students during their senior years.
"MEPP is a tremendous way for kids to prepare for the real world and get a head start directly into the fields of their choice, and that's something we wanted to be involved in," says Tom Klein, vice president of marketing and merchandising with ToolSelect, "Coopersville is a true innovator with this program, and we can see other schools looking to them as an example to get kids ready to excel immediately after graduation, whether it's college or a career."
Klein also notes the undeniable benefits to the ToolSelect community that can come from working with MEPP. "Putting power tools into a school gives us multiple ways to evaluate them," he says. "In a school, they're going to get abused, which is a great way to test durability. Plus, combining the expert knowledge of teachers with many years of experience and students who are in some cases using a tool for the first time, we'll be able to give our community well-rounded tool reviews."
Last year, MEPP received 20 applicants to the program and hopes to double that this year. Current partner companies include GHSP, DeWys Manufacturing, Tiara Yachts, Disher Design & Development, Precision Aerospace and Stone Plastics.
About ToolSelect
ToolSelect is an unbiased community powered by its members that covers all aspects, types and brands of tools, but does not actually sell any tools. ToolSelect's members include everyone from experienced tradesmen to complete novices. Users trade tips, compare notes, debate their favorite tools and work together to help each other make intelligent purchasing decisions.
Like ToolSelect on Facebook (ToolSelect)
Subscribe to ToolSelect on YouTube (toolselecttv)
Follow ToolSelect on Twitter (toolselectmedia)