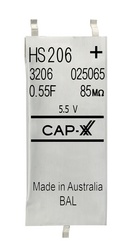 We are honored that Design News has nominated our supercapacitors for this award
SYDNEY, Australia (PRWEB) September 19, 2007
In CAP-XX's BriteSound Power Architecture, a supercapacitor delivers five-watt (W) power bursts which double audio power for rich-sounding music with a strong bass beat, and eliminate the distortion caused by wireless transmissions while listening to music.
"We are honored that Design News has nominated our supercapacitors for this award," said CAP-XX CEO Anthony Kongats. "This achievement recognizes our dedication to developing unique power solutions for mobile devices, which continue to shrink in size but increase in functionality."
BriteSound is the second CAP-XX BritePower architecture for mobile phones, joining the BriteFlash solution in which a supercapacitor powers high-brightness LED flash.
CAP-XX is working with key mobile-phone manufacturers and expects the first designs that are power-boosted by its supercapacitors to hit the market in 2008.
CAP-XX BriteSound(TM) Power Architecture for Music Phones:
As MP3-ready handsets grow in popularity, consumers want an iPod-quality audio experience without the distortion that interrupts music when the phone has to handle other peak-power functions.
In a BriteSound phone, a thin, 0.55-farad, 85-milliohm CAP-XX HS206 supercapacitor delivers 5W power-bursts to drive peak-power functions such as music audio and LED flash. The battery can then be sized to cover the phone's average audio power needs, recharging the supercapacitor between bursts.
The supercapacitor powers the audio amplifier at 5 volts (V), compared to 3.6V from a battery alone, thereby doubling peak audio power for full-sounding music with a strong bass beat.
The supercapacitor also eliminates the distortion that interrupts music during wireless transmissions, by handling the peak-power needs of the RF Power Amplifier.
For more on BriteSound, including three tests comparing audio quality and power in typical mobile-phone audio circuits: http://www.cap-xx.com/news/BriteSoundPowerArchitecture.htm
About Design News:
Design News, founded in 1946, is the leading technical resource for design engineers, who create everything from planes, trains and automobiles to cellular phones, medical devices, and, just about every other product on the planet. For more information, visit: http://www.designnews.com/
About CAP-XX:
CAP-XX Ltd. is a world leader in the design and manufacture of thin, flat supercapacitors and power architectures for portable electronic devices. Supercapacitors resolve the power and performance limitations of batteries, bridging the gap between the power demanded and that available from a battery.
CAP-XX supercapacitors enable manufacturers to make smaller, thinner, longer-running portable electronics such as cell phones, PDAs, PMPs and medical devices. The company, which is listed on the Alternative Investment Markets (AIM) in London, is based in Sydney, Australia, has additional production facilities in Malaysia, and sales offices in the UK and USA. For more information, visit http://www.cap-xx.com or email sales@cap-xx.com.