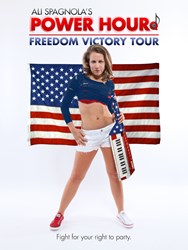 There are a lot of trademark bully stupidfaces out there and I couldn't just sit back and let this guy push people around.
Pittsburgh, PA (PRWEB) January 21, 2013
After fighting a legal battle for three years, musician and entrepreneur, Ali Spagnola, has freed the drinking game called "Power Hour" for everyone. In 2009, a man named Steve Roose trademarked the name and ordered people to take down Power Hour websites, software and videos and had Ali's original Power Hour Album of music removed from online sales. The court has now ruled in Ali's favor and Steve can no longer claim ownership of the drinking game. (United States Patent and Trademark Office, Trademark Trial and Appeal Board, Opposition No. 91195461, against Serial No. 77805395)
A Power Hour is a common drinking game where players take a shot of beer every minute for an hour. Using this generic game, Roose created a DVD that marks every minute with a burp sound effect. Spagnola also used the well-known drinking game as inspiration when she composed her fourth album of music. She wrote 60 one-minute songs and performs them live while the audience takes a shot of beer together every time she changes the music. Spagnola also sells her music on her Shot Glass USB invention, a unique shot glass with a removable USB drive that contains her album/game.
After creating his DVD, Roose trademarked the term "Power Hour" and sent cease and desist letters to multiple Power Hour creators. He successfully had many forms of the game removed from the internet including popular software, YouTube videos and websites. When Roose came after Spagnola to stop her from playing her Drinking Game Concerts and distributing her music, she took him to court.
Ali was convinced Roose was issued the trademark in error so she started a company, Binge Responsibly, LLC, and took Roose to court to have his trademark removed. It resulted in a long legal battle that cost Ali over $30,000 in legal fees. After three years, the verdict has just been announced. Ali has won the case.
It was ruled that "Power Hour" was, in fact, descriptive and Roose should never have been given the trademark. It would be similar to someone claiming they owned "poker" and trying to stop others from playing the game. Ali is now able to perform her Power Hour Concerts, distribute her music and sell her Shot Glass USBs. All other Power Hour creators and players are also able to legally use the term.
Upon hearing the verdict, Ali has announced her campaign for a Freedom Victory Tour to celebrate the great news with the world. She launched an Indiegogo page where she is collecting contributions to fund taking her Power Hour Concerts on the road. In addition, Ali is using this campaign to collect votes for what cities her tour should include, allowing her to find the places and people that will be most excited to celebrate the victory with her. Ali's Freedom Victory Tour campaign also allows her fans and supporters of her fight to receive perks such a download of her album/game, a Shot Glass USB, a personal Skype drunk dial and a live house party Power Hour performed by Ali herself.
"There are a lot of trademark bullies out there and I couldn't just sit back and let this guy push people around. I had no idea what I was getting into when I started but I couldn't give up," Ali said, "I'm thrilled it's all over and we can claim a victory for intellectual and creative freedom. I can't wait to party with everyone to celebrate!"
More about Ali's Power Hour can be found at powerhouralbum.com. For more details on the legal battle, see Ali's writeup of the story.
About Ali Spagnola
Ali is a drinking composer with a music problem. She's a graduate of Carnegie Mellon University and holds a BFA in art. Her music - including her three albums previous to The Power Hour Album - have garnered lots of attention including placements on well-known TV shows and as ringtones on Android phones. When she's not busy helping people party, Ali enjoys creating daily pop art paintings for requesters online. More about Ali can be found at alispagnola.com.